Andrew from UniqueCarPosters.com is an Australian automotive artist who created a cool poster type print of the 1980's Buick Turbo Regal cars!
Featuring 20 Buick Regals from 1978-1987 it covers everything from the 1978 Regal Sport Coupe to the legendary 1987 Buick Regal GNX and everything in between!
Like Grand Nationals? it's included!
Fancy the T-type or Turbo T? it's on there!
WE4, WH1? yep!
These G-body Regal cars were the basis for a renewal in Buick muscle cars with the potent turbocharged V6 and performance handling package. Show off your love for them by acquiring this neat poster!
Printed on Premium Gloss 240 gsm paper stock, The size of the print is 13″ x 19″. There is a blurb of text at the top introducing the cars and automotive history, and each vehicle has a label, year and specific text under it discussing changes for that year and the models depicted.
Many hours of planning, research, illustrating and writing work have gone into the production of this poster and it shows that the creator is very proud of it.
Designed to be a framed print for the Buick muscle car enthusiast, and one you will be thrilled to hang on your wall in your man cave, office or your turbo regal garage!
.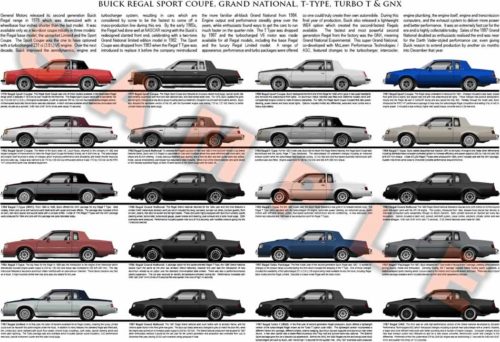 .
Cool poster, huh?
Even COOLER:
The artist has a SPECIAL OFFER of 25% OFF the NORMAL RETAIL PRICE for BuickTurboRegal.com Readers:
Just $19.98 (USD)!
WANT ONE?
CLICK HERE TO OBTAIN THIS SPECIAL DISCOUNTED RATE!
.
.
As a sidenote, the artist has another Buick poster available, the 1970 Buick Skylark GS GSX SportWagon model (see his website for details).
Desire a different Buick model? (or some other brand?) Inquire with him via: info@uniquecarposters.com
.
.
.
Just FYI, I purchased this print for full price last year off his ebay listing & it is hanging proudly on my wall with my other Buick items!
It's awesome that the creator of this print is offering it at a discounted rate for BuickTurboRegal.com readers!!!
Go get yourself one NOW!
.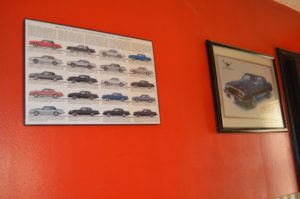 .