While this post is not technically included in the 7 steps we're doing this week for the rear disc brake swap on our 1987 Buick Grand National, this information could come in handy if you're doing the complete brake lines like we are.
(and even if you're not, the info is useful if you are ever doing anything brake line related and need to know thread pitch, line size, fitting size, color codes, etc.)
We received our stainless steel brake line kit from Inline Tube that we're installing on the Turbo Buick and noticed that not only are the new lines very pretty, but the end fittings have colors on them. They also have color coded dust caps over them.
.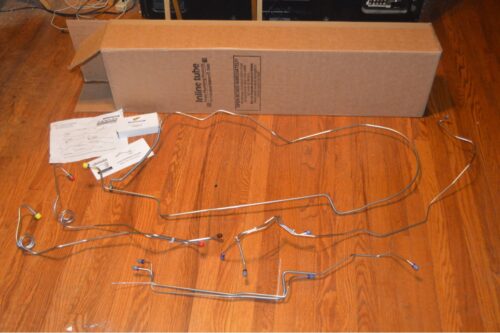 .
I figured that must have meant something, just not sure exactly what!
I'd be willing to bet that most Buick Regals owners have, at one point or another in their lives, bought some short length brake line tube from their local auto parts store.
(to fix a Turbo Regal or even the daily driven vehicle)
You buy it, and it's made out of regular steel, and the fittings are usually gold (or silver).
And generally there isn't any dust caps on top of those fittings.
Unless you get NOS brake lines or an accurate aftermarket kit, I bet you'd never even know that they originally came this way! (we didn't! "Learn something new every day!")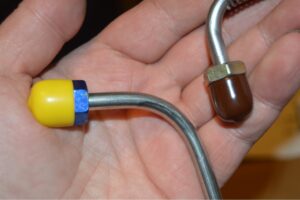 So seeing these colored caps made me wonder what the deal was about them, considering we've never seen anything like that before.
Who better to ask than the people at Inline Tube, where these lines came from!
I had a nice conversation with Chuck from Inline (support staff), who by the way, IS a G-body guy himself!
(Chuck's also the guy in some of the videos from Inline – check out their Inline Tube youtube channel)
Chuck explains:
Inline Tube color-codes their brake lines based on the same method that GM / Buick used originally.
They were done this way so that the guys (or girls) on the Flint, MI, assembly line, did not install the brake lines the wrong way onto the Turbo Regals.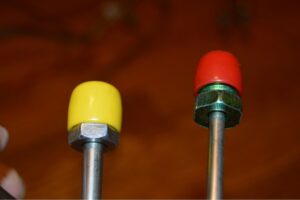 The line fittings and caps are color coded in the following manner:
Purple fitting = 3/8-24 thread pitch, 3/16" tube, with gray cap.
Red fitting = 7/16-24 thread pitch, 1/4" tube, with brown cap.
Green fitting = 1/2-20 thread pitch, 3/16" tube, with red cap.
Blue fitting = 9/16-18 thread pitch, 1/4" tube, with yellow cap.
The Buick Regal uses an inverted flare on all of the ends.
Inline Tube products are the same way.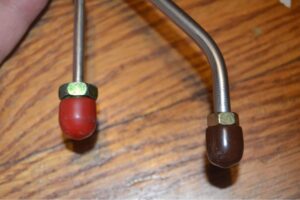 There's only 2 different brake line sizes on the Regals:
(not including the caliper hoses)
1/4″ line and 3/16″ line.
The bigger line, (the 1/4″ version), is for the rear brakes, since it has to travel further, and takes more fluid to provide enough pressure to make the rear drum wheel cylinders function properly.
Rear axle lines are both 3/8-24 at the rear tee and at the rear wheel cylinders.
Front to rear line is 7/16-24 at the rear hose and 9/16-18 at the proportioning valve.
Left and right front lines, are both 3/8-24 at both ends of the brake line.
Master cylinder lines at prop valve are 1/2-20 (rear brake line) and 7/16-24 (front brake line).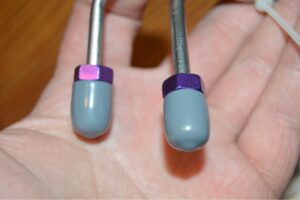 For a Powermaster or vacuum brake system, ON the master cylinder:
The rear line (closest to firewall) is for the front brakes.
The front line is for the rear brakes.
.
.
If you'd like to check out Inline's products for Buick Regal you can click on the banner!
.

.
For your reference, an original stock proportioning valve is shown below (for disc/drum brake setup), complete with the correct thread pitch sizes of brake lines.
.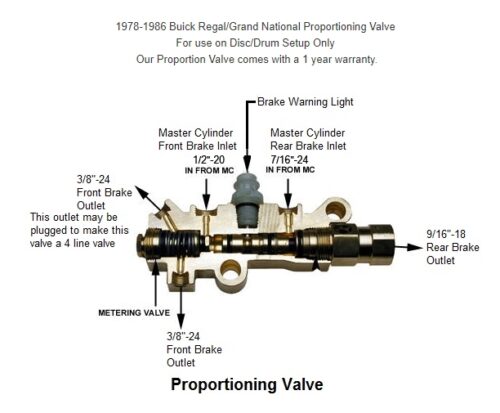 .