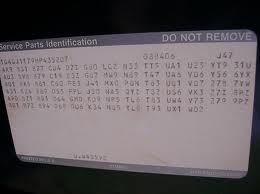 The Regular Production Order (aka RPO) codes can be found on the Service Parts Identification (aka SPID) label on the trunk of your Buick Regal.
Starting with the 1984 model year GM began implementing the SPID label program which entailed using an information label listing all of the options and equipment to help technicians service GM vehicles.
They not only included the RPO codes but also buick paint and trim codes along with such information as spring and sometimes sub assembly codes.
There were several different labels used through out the four years that the (most common & favored) Buick Turbo Regal was built.
The labels used for 1984, 1985 and partially through 1986 was a white label identified by the part number 14065987 in the lower right corner of the label.
These labels also have a protective clear tape over them.
Cars built for the Canadian market utilized this same basic label but with a French language description on the lower half with the part number 14065989 in the lower right corner.
Part way through 1986 and for the model year 1987 GM changed the label and it now has the part number 14085266 in the lower right corner. The protective clear tape was also not used anymore.
Information on 1987 Canadian market cars is not available at this time.
By ordering a certain option on the vehicle, or ordering a special package, the codes for these options/packages generate many additional codes that are all part of that specific package. These codes are then automatically forced onto the specific build order, and also listed on the SPID label.
.
Come back tomorrow to see the most common optioned packages for the Buick Turbo Regal!
.