Photos from the 6th annual Classic G-Body Garage (CGBG) car show continues.
Held on Saturday, July 22, 2023, at the Medina, OH, Fairgrounds.
This event is sooo worth the 360 miles (round trip) we drove to attend this one of a kind auto show!
We started this series yesterday, with all of the cars and things that were inside the building.
Todays post shows you us walking down the first few rows of cars.
Actually, they were the last few rows, as we started in the back and worked our way to the front (nearest the exit road).
You can see this was just after the rain stopped, as some vehicles are still wet, and others, you'll notice the proud owners wiping them down!
The rain came in (earlier in the day, and some in the late afternoon), but that didn't stop even more auto buffs from rolling in well into the course of the day.
Some display participants did leave with their vehicles before the afternoon shower made another appearance (we saw a bunch of assorted G cars on the road as we were coming into the show, around 3pm, and we managed to snap a few pics of them, too).
.
Enjoy all the Buick Regals, Oldsmobile Cutlasses, Chevrolet Malibus, Monte Carlos, El Caminos, Pontiac Grand Prix's, and any other G-body vehicles from this event that were in the parking lot.
Check out the pics below, and be sure to come back tomorrow to see even more!
[see YOUR car? Feel free to "right click and save" the photos if you want]
.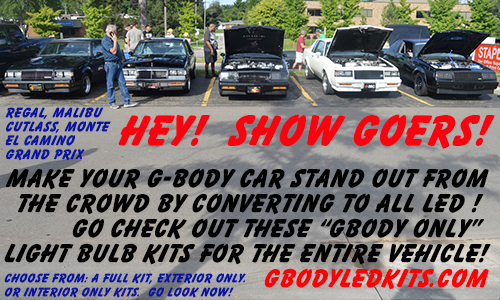 .
[ you can see more about the Classic G-Body Garage on their youtube channel: youtube.com/channel/UC2NgEBBjtoTUPhygyZBLo-w ]
.
Regal fans: BE SURE to check out the SUPER RARE Sage Green Buick Regal!!!
[there's literally only a handful of this color left on the planet, we've only seen 3 of these in person in the last decade. Lorenz Performance has 1, we saw 1 at the GS Nats years ago, and now this one]
[also look at the white Monte Carlo with a custom hood, and Camaro Z28 ground effects & spoiler package, that's pretty different!]
.
.
If you missed any of these posts, the links below will take you to them!
Classic G-Body Garage Show (Part 1)
Classic G-Body Garage Show (Part 2)
Classic G-Body Garage Show (Part 3)
Classic G-Body Garage Show (Part 4)
Classic G-Body Garage Show (Part 5)
.