Surprisingly, series 1 for these cars didn't have the standard black or white vehicles included in the release. The first series was all about the 1986 Buick Regal T-types.
Fear not though, for Racing Champions Mint release number 2, here they are! The 1987 Buick Grand National, in black, as well as in white (!! even though we all know it's a Turbo T).
Limited again to 1256 units for the regular die casts.
A cool gold tone chase car was created too (called a "gold strike"). Version A packages have the letter A & the number 4 in red. Version B have the letter B & the number 4 in blue. Along with it being titled "Buick Grand National" – whereas in series 1 it was labeled as a "1986 Buick Regal T-type" (and the lower portion of the front of the package is slightly different from series 2).
Gold Strikes are less than 2% of the production run, meaning a total of 25 cars like this are produced. It doesn't get much rarer than that for a factory made item! These special gold G-body Regals are currently (end of 2017) being sold in the $300 range!
.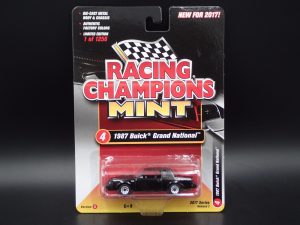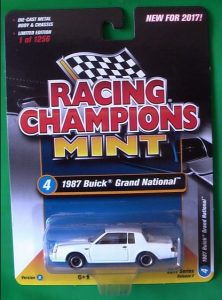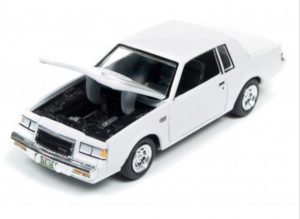 [note: the above is a pre-production photo & you can see the differences that occurred in the final release; most notably chrome bumpers & rims]
.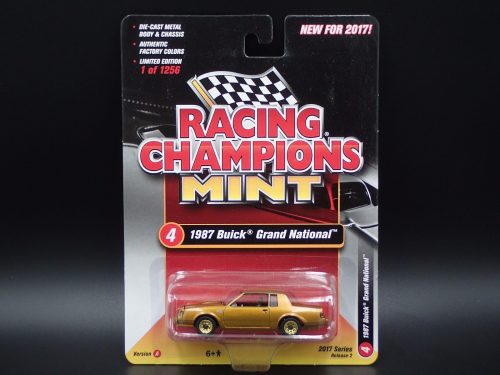 .
Here's some other items if you're shopping for Buick merch:
(if you can't see them, turn off your ad blocker!)
Here's some related Buick items if you happen to be shopping for Buick merchandise! (if you can't see them, turn off your ad blocker!)
.