Auto World is coming out with a new Buick release!
Part number SC323, retailing for $25.99, there's 2 new 1:64 scale versions being released from their Xtraction Ultra-G series.
This electric slot car is part of their Muscle Cars USA series.
An all black 1987 Buick Grand National, and an all white one.
They also have an "Iwheels" version.
Featuring 2 Neodynium traction magnets, these slot cars are 100% compatible with Tomy and AFX sets. There's also an IWheels version available.
While it was supposed to be released in late April 2017, apparently they were behind schedule, as they weren't released until mid May.
.
.
The below is the Iwheels version: which has white tires and pearl white paint.
[AKA: the "chase car"]
.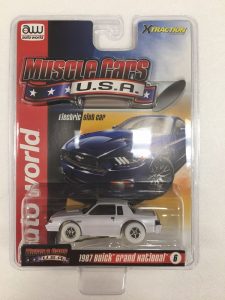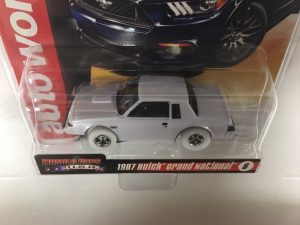 .
Here's some related Buick items if you happen to be shopping for Buick merchandise! (if you can't see them, turn off your ad blocker!)
.