ASC 1987 GM BUICK REGAL GRAND NATIONAL GNX #500
My Wild Ride in Buick GNX #500!
I recently took a trip to The Sloan Museum in Flint, Michigan. What an awesome place!
I had heard that this is the where they store GNX #001. Unfortunately, it was on the road touring. They did, however, have GNX #500!
After browsing over the car real hard, as it's not roped off and you can get up close and personal or even sit inside if you wish, one of the office women came over to me.
She smiled, must of knew somehow I was a big fan. Of course, it could have been that I spent like an hour by that car and was taking a ton of pictures.
I told her, the keys are in it, so does that mean I get to take it for a spin?
She replied, "well, are you a reporter or something?"
I blurt out "is there a magical correct answer to that question to get you to say yes?"
Yeah, "Please" she states.
Without missing a beat, "Pleeeeeeeeeease" comes out of my mouth.
The lady smiles again & says ok, BUT, be verrrry careful with it, as I'm the only one in the office right now & I can't go with you!
"I WILL!" I say gleefully and loudly as it echoed through the building.
Before she can change her mind, I jump in, turning the key to hear the whine of the turbocharger as she pushes the door open.
Off I go!
Thoughts of "just keep going, don't look back, don't turn around, don't need no stinkin' title to keep it" are entering my mind.
Realization kicks in though, so I take it ever so cautiously as I manuever it out of the building.
As I turn the corner on these very narrow streets, and lose her from sight, great temptation overcomes me. The gas pedal gets mashed through the floor. My body flows deeply back into the seat while smoke gushes out from under the tires.
With the car slowly going sideways, I don't even bother getting off the accelerator!
I'm havin' fun now!
At 80 MPH, the beast finally straightens itself out.
I come to my senses, slowing down to the legal speed limit of (gulp) 25.
Thinking that I'm having the time of my life, I pause at the stop sign.
I have to do a double take in the rear view mirror.
State trooper.
Uh oh, my heart is pumping faster than the turbo that sits in this vehicle!
2 seconds later the cop is approaching my window.
He removes his dark sunglasses, smiles, looks directly at me, and as his smile fades away, yells "I'm tired of you 'museum guys' having all the fun while we're out here working hard.
Move over – I'm driving!"
My eyes grew wide, laughing hysterically.
Obeying his command, I buckle up and prepare myself.
Boy, I had a feeling this terrific day was about to get wilder than I could ever imagine!
He immediately heads for the freeway, hammering the throttle.
He looks to be impressed with the capabilities of this automobile.
100…120…140…160… I stop looking at the speedometer.
I'm scared to death, whizzing past cars left and right, while being totally exhilarated at the same time. I never expected him to be handling this museum piece in such a manner.
You would think he just stole this car by the way he was driving it!
I chuckled to myself, wondering what would happen if WE got pulled over by a cop?
Not long into his test drive, he spots something interesting not too far ahead.
Must have been his training, as I couldn't tell what he was looking at, but knew he was intently concentrating on something.
As we grow ever closer to it, I immediately know what it is!
We catch up to another GNX who doesn't escape us for long!
What a thrill!
Officer Johnson looks over at him, nods, and they go at it!
How cool is this?
As if taking this muscle car for a spin wasn't great enough, now I get a head to head race view from inside!
Neither car really gets past each other any major distance.
Traffic is starting to get heavy, so I murmur "if you crash we're BOTH in big trouble."
He glances at me briefly.
20 minutes later, as we near his patrol car, he puts his glasses back on and comments "I'm going to forget about what I saw you do back there on that street before I stopped you."
The smile returns, "Hell of a ride, thank you" he says.
Matter of factly, I respond "anytime, come visit us again!"
One hour has passed by the time I pull this incredible Buick back into the museum garage where it was parked.
The office lady was waiting impatiently by the door and isn't too happy with me.
I put the shifter in park, hesitating for a moment before getting out of the GNX.
Just as she's about to beat me up with an old camshaft that's sitting in the garbage, the museum curator comes in from his lunch break.
Without realizing what just occurred, he looks at me asking if I was enjoying my visit.
Grinningly, "yes, sir" I reply.
I hand the lady a $100 bill, grab the camshaft, and tell her "THANKS for the awesome souvenir!"
As I'm hurrying out of there, she is shaking her head in disbelief when I overhear the curator tell her "It's great to see that you are pleasing our visitors since this is your first day on the job, he must have had a fantastic time to buy a piece of junk like that, keep up the good work Mary!"
Yeah right, she exclaims.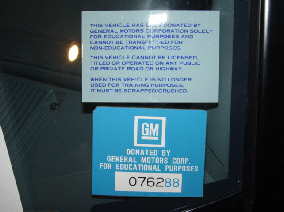 OK, I admit it, this was a dream I had the morning I woke up on the day I visited the museum.
This story is totally made up, except for the fact that I actually went to the Museum…
But, for some of us, this car is the stuff dreams are made of!!!
Here's The real story on my visit…..
It is true that this is the where they store GNX #001 but it was on the road touring.
GNX #500 was also the car they had on display.
The keys really are in all of the ignitions too!
It's also a fact that this place isn't really like any other car museums I've ever been to.
A storage garage or someone's personal collection is a more accurate description.
The benefit though, is that the cars are approachable, no ropes, no boundaries!
You really can touch them and get an up and close view of the vehicles!
It's a really cool place to visit if you get the chance.
Just 5 bucks gets you in the door!
They have about 25 auto's to check out.
1920's, 1960's, a few concepts, a midget sprint car, an army tank, a bunch of rare memorablia, signs, old gas pumps (did you know they are about 10 feet tall?), and a cool vintage diner tucked around a corner!
I went to only specifically check out the GNX, but I snapped a bunch of pictures & studied the other specimens they had.
Specs on GNX #500:
54 miles on the clock.
Paint looks like new, a LOT better than on # 001! (even with the repaints #001 has had).
Of course, this car probably doesn't travel across the country like GNX #001 does.
Holding the fender vents attached is a pretty cheesy screw.
I've heard this before, but never really saw it this close. Interior is super clean.
It has an interesting sticker on the windshield (drivers side, lower) that reads:
"This vehicle has been donated by General Motors Corporation solely for educational purposes and cannot be transferred for non-educational purposes. This vehicle cannot be licensed, titled or operated on any public or private road or highway. When this vehicle is no longer used for training purposes, it must be scrapped/crushed."
AARG!
Can you imagine them EVER doing this???
Under that sticker, is another that reads:
"(GM logo on top) Donated by General Motors Corp. for educational purposes. 076288."
The number 0762 is in black, apparently the 762nd car donated by GM.
The number 88 is in a matching color to the rest of the label & is just a bit smaller than the other number, so I'd have to guess that 88 means 1988, probably the year when the car was donated.
Which, if correct, then exactly where WAS the car between when it was made during the middle or end of 1987 and 1988 when it was donated?
Finally, on the passenger side window, there's a sign that reads:
"Look and Reminisce But please do not touch Thank you."
Yeah, right………. 😉
Photos of Buick GNX #500 are on this page. Hope you enjoy them as well as my story.
If you liked this story, please bookmark it and share it with others! Thanks.