July 22, 2023, marked the 6th annual Classic G-Body Garage (CGBG) car show.
Held in Medina, Ohio, this time around, at the Fairgrounds, since last years get together pretty much filled up the parking lot over at the Pull-a-Part where this event has been occurring for the last 5 years.
They needed somewhere else to put the gala on, a place with enough room for the many Buick Regals, Oldsmobile Cutlasses, Chevrolet Malibus, Monte Carlos, El Caminos, and Pontiac Grand Prix's that show up to this ever-growing event!
This venue should be able to hold them all for a long time coming.
Brian Suter (owner), and Frank Hooks Jr. (manager), did an excellent job as usual putting on this huge affair. Well done, gentlemen.
TONS of G-bodies, food, musical entertainment throughout the show, raffles, good company with old and new car buddies, what more could you possibly want at a car show?
Living in Michigan, we get more than our fair share of automobile events (probably more than anywhere else in the Country), but this is one show that is always on our "must attend" list! It's THAT good! Haven't been to this one before, you're truly missing out!
[locally, we have the Telegraph Road car cruise going on, which is a great cruise to go to, but since these events both fall on the same day, there's no doubt in our minds the CGBG show is THE one to attend! -If it's a choice between seeing "some" G-body cars at a cruise, or ALL Gbodies at a show, well, there's really no choice for us! We love all them G cars!]
[see YOUR car herein? Feel free to "right click and save" the photos if you want!]
.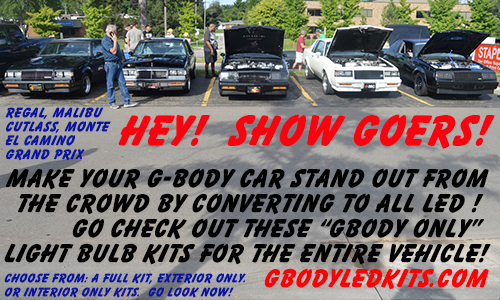 .
There's sooo many vehicles at this event, we normally break up these posts into all of the different G body cars (to make viewing them easier) in their separate areas, but this year we decided to shake things up a bit, to give you guys a more complete look at how things actually are when at this auto show.
Instead of 1 post containing all Buicks, then another with all Chevy's, etc., we're going to give you row by row action.
It's nice that all the cars just pull in wherever, there's no "sections" for the different brands. You walk down the aisles and might see a Monte SS parked next to a Grand Prix, with a Buick T-type on the other side, then perhaps a Malibu SS after that.
It gives you a good look into the varieties, and specifities of each different model.
That's part of the coolness of this gathering, especially if you didn't really know all of the subtle differences between each GM g-body. You WILL after you leave!
.
Our method for these current posts (there's going to be 5 of them over the next few days, including this one) is we're showing you ALL of the cars, 1 by 1, that were parked in the first few rows.
Tomorrow you'll see the next couple rows, followed by the next rows, etc., until we've walked you through ALL of the Gbody cars that were in attendance!
(we sharing over 250 total photos with you, about 50 pics per post)
[don't ya feel special that if you brought your vehicle here, it's being shown on the internet, on a cool informational website such as THIS one!?]
The last post in this series will show you some other event related photos, the drawings / giveways, car raffle, and whatever else occurred during this special celebration!
Check out the pics below, and be sure to come back tomorrow to see more!
[SEE the cool Mountain Dew Buick Regal go-kart!]
.
.
If you missed any of these posts, the links below will take you to them!
(AFTER they have been published on here)
Classic G-Body Garage Show (Part 1)
Classic G-Body Garage Show (Part 2)
Classic G-Body Garage Show (Part 3)
Classic G-Body Garage Show (Part 4)
Classic G-Body Garage Show (Part 5)
.