It was another double duty day.
After hitting the Gasoline Alley Car Show, we ventured over to Clawson, MI, for their annual "Down on Main Street" Car Show.
[this event could have been dubbed the "everyone gets a trophy" car show – check out the photo with the semi truck, those are ALL trophies that get handed out!]
We arrived at a good time on Saturday, August 12, 2023, (about 2pm), as the rain had just stopped, and we were able to walk the half mile runway full of vehicles without getting wet.
(of course, the travel time between these 2 events is where we battled the brief storm on the freeway, but better here than actually AT the show!)
[you can catch some of the owners drying off their automobiles from the rain in some of the pics]
The entire road ("Main Street") from 14 Mile south to Normandy (13 1/2 Mile) was plastered with all sorts of classic, muscle and hot rods, as per the usual turnout.
This auto event was always on our "must attend" list, since it's that good. And it should be, with a straight .5 mile stretch of pavement filled with awesome cars!
(and it also helps we have a Buick friend who lives nearby and attends, as it's always great to sit and talk with him! Car buddies are gooder…)
[we're hoping another car club or someone will take over this yearly gala, since this is the last USMA sponsored show here]
A single Buick Grand National was in attendance, but there were plenty of other GM G Body vehicles to drool over.
Not to mention other older Buicks and GM A body cars too.
.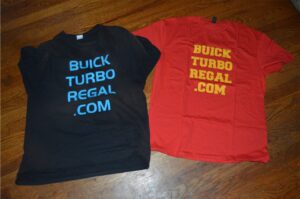 For the bigger automotive gatherings, I try to wear my "Buick Turbo Regal .com" shirt (for easy recognition and free eyeball advertising for this website), and some auto buffs are noticing, as they stop me and chat for a bit! Don't be shy, feel free to say hi if you like.
[the 1-off made black with blue lettering shirt was our first and favorite (matches our GN), and now we just got in a new red with yellow letters version, which is pretty cool looking and in theme with the Turbo Regal colors! This also makes it easier for multiple day car events, since we don't have to wash it overnight to get ready for the next day! lol]
.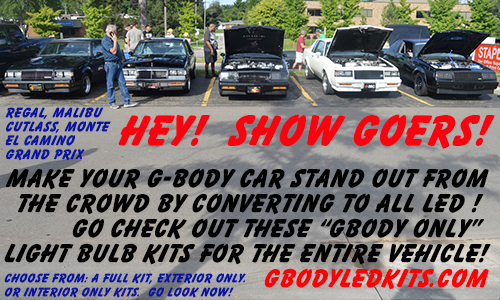 .
.