According to the Maisto wiki page:
Adventure Force is a Maisto series for Walmart, using modern Fresh Metal cars but some have different and unique paints like the police version.
These cars are almost the same as the Maisto fresh metal cars.
[side note: the fresh metal cars are for sale at some Dollar Tree stores]
.
We have previously shown you the Buick Grand National from the Adventure Force series in the 9 pack boxed set, as well as the 50 pack boxed set, and now we see the Buick GN in a single packaged carded style.
Currently for sale in Mexico, the package design contains spanish writing on them.
They're also produced for the American market as well, as we show you below.
.
Note, that the windows are tinted on these Maisto diecast vehicles, and there's a specific reason for that!
They have no interiors in them!
(that's in part as how they make these diecast cars so cheap!)
.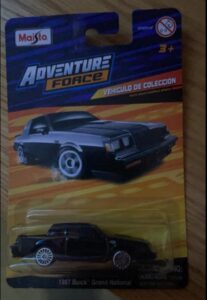 .
.
UPDATE:
The above photos are from Feb 2022, and now, Jan 2023, we saw another version of this Buick diecast vehicle, that has a similar, but slightly different carded package (same car, different design on the face of the card). See pic below. (note the Spanish writing on it "vehiculo de coleccion")
.
.
Here's some related Buick items if you happen to be shopping for Buick merchandise! (if you can't see them, turn off your ad blocker!)
.