It's close to getting down to the wire for the 2023 car show season (even though October has just began), and like most auto aficionados, we're trying to hit up as many different events as we can before it ends. Car guys can never get enough!
(while the weather is still nice and warm during this "indian summer" we're having)
[there's at least 5 more auto gatherings that we intend on going to before October is done however!]
We cruised on over to the County Line Trade Center in Warren, Mich., on Sunday, October 1st, for the Metro Cruisers Fall Final Car Show.
This is another new event and venue that we are attending for the first time.
(we made strides to attempt to hit up numerous new places this year, and pretty much succeeded!)
Checking out all the various automobiles participating in this show, and then browsing inside the trade center to seek any deals we can find.
[side note: if you've never been to this trade center before, it reminds us of how Gibraltar use to be way back in the day (with antiques & junk & misc stuff, when it was cool to just walk around and browse all the different things), before the commercialization of it took over with sellers peddling basically all new merchandise (that you could find literally everywhere else). If you're searching or just curious for vintage items like this, you should go walk thru the large building!]
Quite a few GM G-body (Malibu's) and A-body vehicles were in the parking lot (actually, on the grassy area), and even a single Buick Grand National!
This wasn't a huge show (although there's plenty of room here for 100's of cars if needed), but to be fair, some cars were still coming in when we left (about 2:30 pm).
Even still, visiting this car show and trade center was a worthwhile trip today.
(as what else are you going to do on a Sunday? Chores? Who wants to do those!? lol)
(and no, we didn't find anything in the building for us to acquire, but it was neat to look around, haven't done that in a long time)
.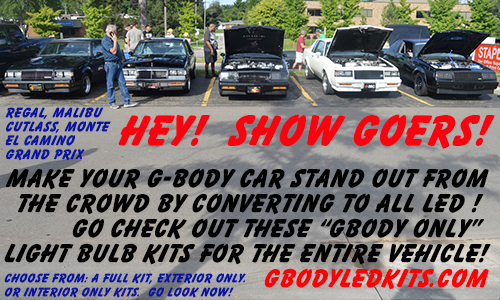 .
.