The header panel (AKA nose piece, or in more general terms "front end") on all Buick Regals, while basically a sturdy and supportive unit, does have it's weak spots.
Especially when it's leaned on in the wrong places.
The area above the headlights is the main section on the header panel where there is one of these weak spots.
This is also the same place that is commonly used to stretch across when you are working under the hood, not to mention grabbed upon for your own body support when you get down there under the Gbody Regal (or pull yourself up from off the ground).
[in case you were wondering, the center section of the header panel has a metal brace on it that attaches to the core support, so this specific area of the nose piece is pretty secure from crushing in or breaking, unlike the 2 areas that this new product solves]
.

.
Buick isn't making any more OEM fiberglass front header panels, and finding a NOS unit is just about impossible.
Used ones are available (sometimes), but they aren't cheap either.
That means keeping your original one in the best condition possible is imperative.
So wouldn't it be great if there were some kind of device that could be implemented to lend some additional support in this weakened area of the front end?
Well, guess what?
A fellow Buick Grand National owner has come up with a neat solution!
"Front Header Support Brackets" are a simple and low cost upgrade you can do to your Buick Regal.
They're barely visible once installed, so they won't devalue the car, all while providing beneficial results.
(and they're easily removed if you absolutely need to return to that OEM look)
If you're confused by just looking at them, as to what they do exactly, (like we were initially), they basically sit UNDER the header panel, in the headlight section, on the backside (within the engine compartment), providing support to the top of the header panel (from moving downward, breaking it).
(looking forward from the front of the car) They sit about 1/2″ inward (towards you) from the backside of the header panel.
This 'Made in the USA' pair of 12 gauge steel (3/16″ thick) black satin painted braces, measuring 12.5″ long by 1 3/8″ tall, weigh just a bit over a pound, but will provide the necessary support to strengthen the area on the nose piece that needs it most.
Jay (the creator) isn't new to Turbo Buicks, as a matter of fact, he is an ORIGINAL owner of a 1987 Buick Grand National! And… his wife has a 1986 Buick Grand National as well!
(you can see their Buick GN's here: 1987 Buick Grand National original owner)
.
******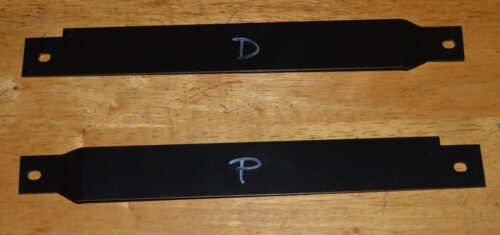 .
If you're interested in a set of the "Front Header Support Brackets" that we show here, you can grab a set (or 2): contact Jay, via email at:
golfplusevv@aol.com
******
.
Jay has a few other items made for the Turbo Regals, like car show display sign holders, custom sublimated Buick Grand National hoodie blankets, and a clever upper radiator hose clamp bracket (that keeps the upper radiator hose away from the rotating fan belt).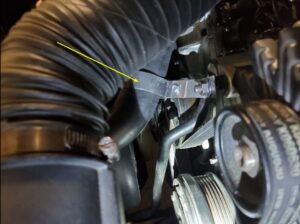 He sells products on ebay
(although you can contact him directly via email above for a quicker response).
You can see all that's offered in his Ebay store:
https://www.ebay.com/sch/i.html?_ssn=golfplusevv
.
COST OF PARTS:
– $29.99 pair, shipped
.
TOOLS NEEDED:
– 10mm deep well socket, an extension may make removing nuts easier.
.
COMPLETION TIME:
– about 5 minutes (for doing both sides!)
.
HOW TO INSTALL:
1. Install these pieces one side at a time.
2. remove the two 10mm nuts from driver side which are located above the headlights on the backside of the header panel (in the engine compartment).
3. Install the proper bracket (labelled "D" for driver side or "P" for passenger side) on the appropriate side.
When installing, be sure the marked letter faces the FRONT of the vehicle.
Slip the bracket over the studs on the header panel.
(the short bent side goes towards the outside of the vehicle, on both sides of the car)
4. Snug the nuts back in place.
Do not overtighten !
5. Move to the other side and do the same thing.
6. TA-DA! It's done.
.
This set of support brackets will probably be one of the easiest projects you will ever do on your Turbo Buick!
Note: This pair of support brackets are designed to fit vehicles with original header panels with no missing studs.
If trying to use on a remanufactured header panel these may not fit and modification may be necessary.
Fits all 1982-1987 Buick Regal, T Type, Turbo T, Limited, Grand National, GNX.
(and although not tested, probably some earlier models and other Gbody vehicles too)
.
The drivers side of the vehicle is shown in the below photos:
.
.
******
If you're interested in a set of the "Front Header Support Brackets" that we show here, you can grab a set (or 2): contact Jay, via email at:
golfplusevv@aol.com
******
.
.
.
The vendor shown above has supplied us with the parts we used in this project, per our request. If you are looking for similar parts, don't hesitate to inquire with this specific vendor!
.
.