The Buick Grand National wasn't highly promoted back in the day.
Sure, there were newspaper ads from the Buick automobile dealerships announcing them (for sale in their car lots), but actual promotional placements from Buick were very minimal.
There was a "bad to the bone" video created, but it only ran a few times, and was not shown nationwide, only in select areas.
The original 1985 Buick Grand National TV ad.
Here was a cute TV ad that an auto dealer created: Buick Dealer TV ad
.
For the Buick GNX, even fewer advertisements were published about the top of the line Turbo Buick Regal.
(but not surprising, considering the low production figures for the vehicle)
In the first photo below, which is the one most people have seen, this one was printed in several of the car magazines in 1987.
The second photo, a truly rare item, the Buick GNX wasn't even really the main promotion for the ad.
This one was all about highlighting ASC (who modified the Buick Grand National and turned it into the infamous GNX) and what ASC was capable of doing, for the automobile manufacturers.
The Buick GNX WAS a good selling point for ASC however, since the buzz was all around it at this time, to show prospective builders exactly what ASC could accomplish (and do for them, should they choose to utilize ASC's services).
Quite a simple, but well done, stunning advertisement.
.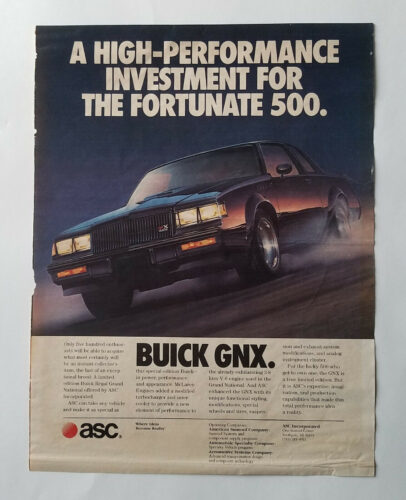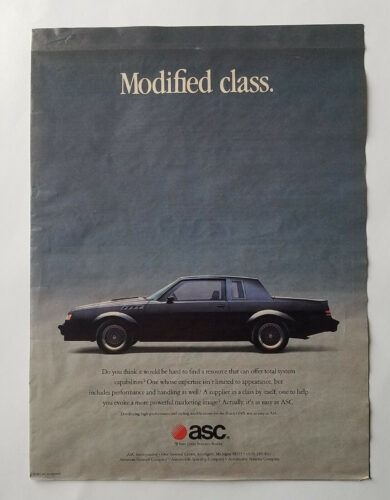 .