Walnut Street in Rochester, Mich., was once again filled up with assorted modes of transportation from the 1930s up to the present, which we normally label as classic cars, hot rods, and muscle cars.
The Rockin Rods 'n Rochester car show is always a good time for seeing a variety of vehicles, including rare and high-end models.
This August 13, 2023, event wasn't an exception.
The weather was beautiful, sunny but not too hot, and no rain thankfully.
A few hundred pristine automobiles participated in this yearly extravaganza.
This is the third car show in a row we've been to with a single Buick Grand National in attendance.
But if there's only going to be 1, it should be a quality low-mile all-original stunning version, like this 1987 (a prime 15k mile example owned by Greg W, and if you've got a ton of cash laying around, you can probably be the new caretaker of it…)
[and BTW, this Buick GN did, in fact, win another trophy at this event! which is no surprise, the car really is THAT nice!]
.
Good thing this Wednesday (tomorrow) is Woodward Wednesday, AKA the day of the year when most of the (local, and some not so local) Buick fanatics gather together, as well as a bunch of G-bodies too. It's truly the best (Michigan) show of the year if you're into Turbo Buicks and the other GM counterparts like we are!
Hope to see plenty of you auto aficionados there!
(preferably with a Turbo Regal, but if you don't bring it, we'll probably put up with you anyways… maybe… lol)
.
.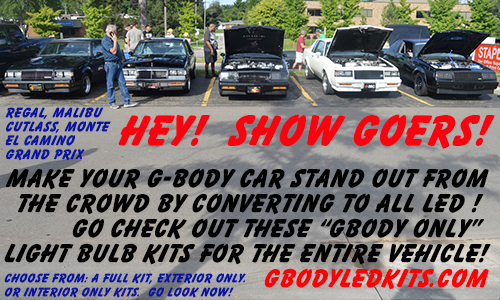 .