When this car was released in 1987, the Buick Regal GNX had a hefty price tag of $29,000 and change. It's definitely not the single reason why only 547 of these vehicles made it out of the dealers lot, but it did minimize the purchasers since that was a lot of cash back at the time.
One of the quickest cars of the times, it was launched at a time which was particularly bad for the American automobile industry and this is some of what makes this car so special.
In an era of tough competition from foreign automobile makers with their fuel efficient engines and rising oil prices, it was a bold decision to launch the Buick Grand National GNX in 1987.
It may be debated that this was a vehicle for a limited market and not produced for the masses and therefore should not be compared with regular cars.
Although the critics have had their opinions, it could not be denied that this was a machine developed for the performance maven, rather than the run of the mill Joe Buyer of fuel efficient standard automobiles.
The 1987 Buick GNX edition designed by McLaren Performance Technologies / ASC was created to be the fastest Buick Grand National in history. At 276 horsepower and 360 foot pounds of torque this Turbo Regal was leagues ahead of any competitors in terms of sheer performance.
Much different than the normal but outstanding Buick Regal Grand National, the stylish looks aided by the sex appeal associated with the brand and the speed factor made the one and only Buick GNX an object of aspiration for the 80's generation, and beyond.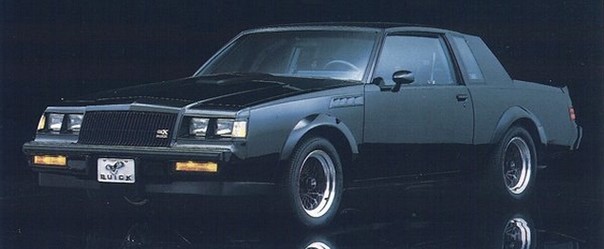 Even today, in the modern age of stylized designs with rounded edges, this car with its straight lines and boxy contour is a unique stand out.
The 1987 Buick GNX was created with specifications to make sure that it lacked next to nothing in terms of acceleration and speed. You could search for a clear lonely stretch of wide open road, and let the motor rev up to achieve maximum torque and then release the brakes to see yourself reaching a mind blowing} 105 miles per hour and finishing a quarter mile in 14 seconds flat.
And in running terms that would have been a casual jog compared to an all out sprint.
The top speed was capped at 124 mph in keeping with the mandated regulations in force at the time. It would have been most people's bet that the Buick Regal GNX would have clocked a lot higher than that.
Back to the GNX specs:
The turbocharged engine had a displacement capacity of 3.8 liters.
The ECM had been tweaked to get a leaner fuel setting at full acceleration in comparison with the factory Regal Grand National version.
Turbo boost was upped to 16 psi in 1st and 2nd gears, 14 in the 3rd and 10 in the 4th gear.
A Garrett AiResearch turbocharger was provided with a bigger housing and a lighter ceramic turbine combined with dynamic oil seals.
The intercooler fins had been redesigned with more density so as to be more efficient.
A transmission fluid cooler was also installed as well in the Buick GNX, adding to the stock engine oil cooler in the regular versions of the Buick Grand Nationals.
The rear suspension on the Buick Grand National GNX was beefed up to supply a stronger frame demanded by its power and speed.
The sturdier suspension meant that it could support the jolts and shocks resulting from high speed.
The rear suspension was outfitted with reinforced lower control arms in addition to a Panhard rod as well as a strong longitudinal torque bar.
The Buick GNX was equipped with bigger Goodyear tires that rested inside the enlarged fenders.
The front wheels were supplied with P245/50VR-16 tires while the rear wheels had P255/50VR-15 specs.
The instrument cluster housed black dials with white figures made by Stewart Warner.
A row of vents were provided on each front fender to disperse the huge amount of extra heat generated by the powerful new turbocharged engine.
All of these high performance specifications resulted in astounding claims from the manufacturers back in 1987.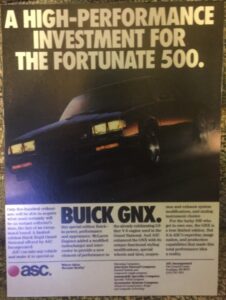 0 to 60 miles per hour was rated to be accomplished in 5.4 seconds.
The 1/4 mile mark was completed in a staggering 13.4 seconds at 104 mph.
This speed demon was created to put the then competitor Corvettes to shame.
Task achieved!
Judging by the details on the 1987 Buick Regal GNX, it isn't too difficult to see why it has been claimed as the best automobile ever made by GM.
It stands out as a high performance machine with a no holds barred image and in your face design.
Owning a low mileage Buick GNX has proven to be a fantastic investment as well.
Nice examples of these cars generally trade hands for anywhere between low six figure prices all the way up to $200,000!
(in 2019, a GNX with 8.5 miles on it – sold for $200k!)
But if you do manage to own one, why on earth would you want to get rid of it by selling it?
Take a look at this cool vintage video review of the Buick GNX.
Or perhaps you want to see what happens when you drive a Buick GNX!