Yesterday, we showed you the proposed White Lightning version of this F&F car.
Most collectors have heard about Johnny Lightnings "White Lightning" chase car versions of a particular vehicle.
But did you know that there are more rare versions, named a "Lightning Strike?"
The production of these specific chase cars are roughly half of the White Lightning versions!
Meaning they are super rare!
White Lightning versions were named that because of the white colored features on them, being different than the regular versions of the same cars. The WL's also usually had multiple white features on them (but not always).
The Lightning Strike cars usually had only 1 different item on them, such as all red tires. The rest of the diecast car looked identical to the production casting.
Here we show you a prototype version of a Lightning Strike car.
Notice the blue tires.
This 1:64 scale Buick Grand National diecast car was for the Fast & Furious series.
(but since this is a "prototype" it is undetermined if this one actually made it into the production schedule of turning it into an actual diecast, it looks like the non-released version of this one)
.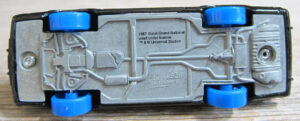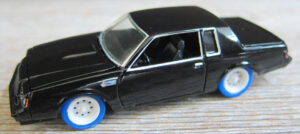 .
Here's some related Buick items if you happen to be shopping for Buick merchandise! (if you can't see them, turn off your ad blocker!)
.