From the Buick Motor Division in Flint, Michigan, from the transmission plant, here's a neat paperweight that has a mission statement on each of the 4 sides of this cube shaped item.
The next is a paperweight from one of Buick Management seminars. This one has the Buick Hawk ("Happy the Hawk") contained inside of it.
Finally, a vintage anniversary paperweight celebrating 50 years (1903-1953) of Buick.
Nobody uses or really needs a paperweight nowadays, but they make interesting souvenir items, or when put on display in some form or fashion.
.
Buick transmission plant paperweight:
.
.
Buick Management seminar paperweight:
.
.
Buick anniversary paperweight:
.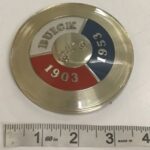 .
Here's some related Buick items if you happen to be shopping for Buick merchandise! (if you can't see them, turn off your ad blocker!)
.