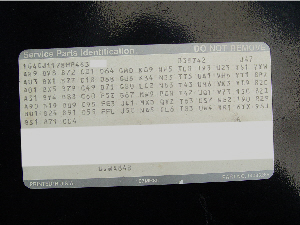 Trying to identify what the trunk codes mean on your 1987 Buick Regal Grand National or Turbo T?
This list may help you out!
1987 Buick Regal Model Availability:
Regal Coupe J47
Regal Limited Coupe M47
Regal T-Type Coupe K47
.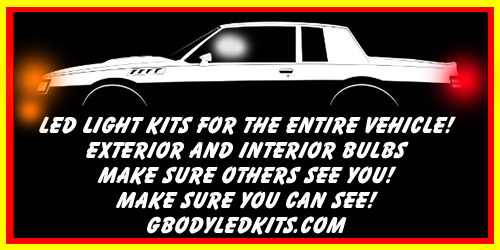 .
AR9 Seat, Frt Bkt, European Style, Pass & Driver Recl
AU3 Lock Control, Side Dr, Elec
A01 Window Tinted, All Shaded, W/s
A31 Window, Power Operated, Side
A90 Lock Control Rr Cmp, Lid, Rem Cont Elec Release
BD1 Ornamentation, Extr Mldg, Rocker Pnl – Delete
BS1 Insulation, Acoustical Pkg
BV8 Ornamentation, Extr Dr Handle, Lock Cylinder
BX1 Ornamentation, Extr Frt End, Special
BX5 Ornamentation, Extr Mldg, Roof Drip, Painted
BY4 Ornamentation, Intr, Inst Panel, Name Plate
B19 Ornamentation, Intr, Custom (STEERING WHEEL HORN CAP EMBLEM)
B24 Ornamentation, Extr Mldg, Side Window Reveal
B71 Molding Whl Opening, Colored
B72 Ornamentation, Extr Mldg, Belt Reveal, Colored
B77 Ornamentation, Extr Mldg, W/s Reveal, Colored
B79 Ornamentation, Exterior, Rr End
B88 Molding B/s, Custom
B89 Ornamentation, Extr Mldg, Rr Window Reveal
B91 Ornamentation, Extr Mldg, Dr Edge Guard, Colored
CD4 Wiper System, Windshield, Pulse
C01 Ornamentation, Extr Emblem, Body, Var 2
C18 Arm & Blade, Wsw
C49 Defogger, Rr Window, Electric
C60 Hvac System, Air Conditioner Frt Man Controls
C95 Lamp, Intr, Roof, Courtesy And Dual Reading
D35 SPORT MIRROR DRIVER-REMOTE, PASS-MANUAL
D55 Console, Frt Compt, Floor
D64 Mirror I/s, Rh, Sunshade, Illum
D68 Mirror O/s, Lh & Rh, Rem Cont, Color
D7I Gear, Speedometer Driven; #25524925
D91 DOOR EDGE GUARDS
E5Z Adaptor Speedo. Delete
FE3 Suspension System, Sport
FFL Flint, Michigan, Body Plant 1 (boc)
GMD Gmad Plants (plant Code) (GM owned assembly plants)
GM19 BLACK EXTERIOR COLOR
GU6 Axle Rear, 3.42 Ratio
G80 Axle Positraction, Limited Slip
G87 Ring Gear, 8.50 Inch
J41 Brake System, Pwr, Frt Disc, Rr Drum, Cast Iron
J50 Brake System, Power
K05 Heater Eng, Block
K09 Generator, 120 Amp
K34 Cruise Control, Automatic, Electronic
LC2 Engine, 3.8l V6 Turbo
MW9 Transmission, 4-spd Auto (thm200-4r)
MX0 Merchandised Trans, Auto Provisions, O/d
NA5 Emission System, Federal, Tier 0
NP5 Steering Wheel, Leather Wrapped
N33 Steering Column, Tilt Type
N83 Wheel, 15×7, Chrome, Styled
PON Pontiac assembly plant
QVY WHITE WALL TIRES
QYH TIRE — WHITE LETTER P215/65R15
QYZ Steel-belted, Radial-ply, Blackwall Tires (p215/65r-15)
TL6 Grille, Black
TL8 Fleet Incentive, Sm&p Conduit Co, Inc
TT5 Headlamps, Halogen, 2
T43 Spoiler, Rr
T47 Commercial Body, Provisions, Union City Body
T63 Alarm, Headlamps On Warning System
T83 Headlamps, Dr, Special
T93 Lamp, Tail & Stop, Special
UA1 Battery, High Capacity, Wet
UA6 THEFT DETERRENT SYSTEM – STARTER INTERRUPT
UM6 Radio, Am/fm Stereo, Seek/scan, Auto Rev Cass
UQ1 Radio Provisions, For Stereo
US7 Antenna, Power, Painted, Radio
UW4 Speaker System, 6, Dual Frt Dash Mtd, F/d, Dual
U12 Speedometer, Dual Scale With Kilo Odometer
U23 Cluster, Inst, Trip Odom
U63 RADIO – AM – MONAURAL
VH6 Bumpers, Black
VK3 License Plate, Frt Mounting Pkg
V73 Vehicle Statement Usa/canada
V97 Vehicle Preparation, Export
WE2 Grand National
W11 T TYPE PACKAGE
YR1 Seat, Front (custom)
YS1 Seat, Rear (custom)
YT1 Build-up, Custom Door And Quarter
YT9 Specified, Division Installed (fisher)
Z31 Identification Price Sheet Advance
Z49 Export, Canadian Modif Mandatory Base Equipment
1SC Value Option Package
19U Primary Color, Exterior, Lamp Black
6YX Spring, Lh Front
7YW Spring, Rh Front
8PZ Spring, Lh Rear
82C Trim Combination, Cloth, Med Dk Gray
82I Interior Trim, Med Dk Gray
829 Seat Belt Color – Med Dk Gray
9SJ Spring, Rh Rear
If you don't find what you're looking for in the list above, check out the other previous posts we made here:
Buick Regal SPID codes & Buick Regal RPO codes
.