We're showing you today a bunch of various custom made creations, built based on the Buick Regal model.
I'm sure many Turbo Buick owners have at least one toy car in their possession.
Yours may simply be a Hot Wheels Buick Grand National, but others want something a bit more personal.
.
Here's a neat 4×4 Buick Regal! It was created using the 1/10 scale radio controlled Buick Regal that was produced a decade ago.
.
.
This is a Pro Mod style Buick Regal race car. The "color me gone" screaming green colored paint scheme was made from parts of the monogram kit.
.
.
The "Cars" movie was a hugely popular movie with tons of plastic toy cars made from what was seen in the picture film. Here's a custom made semi truck with the Chick Hicks theme on it.
.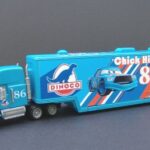 .
Here's some related Buick items if you happen to be shopping for Buick merchandise! (if you can't see them, turn off your ad blocker!)
.