.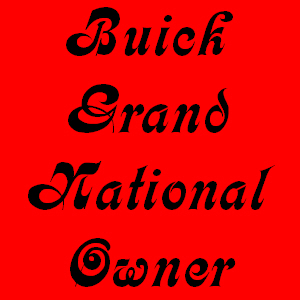 These should put a smile on your face, or at least make you chuckle!
Thought I'd share these with you…
A big Thanks to the great members of turbobuick.com who contributed all these!
.
You Know You Drive A Buick Grand National When:
.
~ someone says BBW so you smile and images of your car pass through your day dream
~ you lost to a mustang once, but it was driven by John Force
~ women children and dogs run at the sight of your garage door opening
~ the presidential science team is still investigating the hole in the ozone your turbo created
~ the neighbors come knocking on your door first when their trash can disappears
~ 10w-30 synthetic is a consumable you top off every 300 miles or 6 hours of run time
~ you spend more money on fuel, tires and turbos than most people spend on their house
~ Mobil oil, Shell Chemical and Goodyear send you Christmas cards every year
~ your wife has never been jealous of another woman
~ you buy 2 weeks worth of groceries before going to the track to get better traction
~ big block Chevy's expect you to spot them 3 car lengths
~ you experience the ole' seat of your pants test every time you mash the gas
~ you step outside on a cool crisp fall morning & your first though is how good the cars gonna run today
~ the guy at the gas station asks why your monte carlo has V6 emblems and that funny hood bulge on it
~ the guy at the strip want's to know why your monte has that weird looking thing attached to the little engine
~ your car & your wallet are broke
~ your lightly modded car, gets thrown out of the track for going too fast
~ when the state police say this one is on me because they like your car
~ when people ask why there is a Jiffy Lube sign under the hood
~ you see a brick and it reminds you of your car
~ your wife says " A regal, my grandpa had a Regal. So glad you spent all this money on a grandpa mobile"
~ your buddy says to his girlfriend "YOU GOTTA GO FOR A RIDE IN THAT THING"!!!! Then she does… "And Cries"
~ when the police give you the thumbs up
~ when you make sure you never leave home without your AAA card
~ you have or have had more than one at any given time.
~ when you and the 2 local TR guys can build a car from the spare parts your collecting in case you need them
~ When you are riding in your car with one of your buddies… and after you mash on it for a few seconds… and let off… you are both giggling like school kids laughing at a fart someone cut in high school English class
~ you can pass a gas station but not a weigh station
~ you take weight out of your car to pass tech
~ your car consumes more alcohol than you do
~ when you hear "squeaking sounds" coming from the dashboard
~ you spend more time on TurboBuick.com than in your Turbo Buick
~ when you keep a track quality tire gauge on floor behind the driver seat
~ you have a spare 2004r built waiting
~ after doing a burnout you can no longer see your passenger!
~ someone tells you that you should put a V-8 in it, and you answer them with "Why would I want to go slower?"
.
Hope you enjoyed these.
Search our other posts for more funny comments & stories!
.