Those wanting to make their Turbo Buicks as original looking as possible should consider acquiring the Buick dealership emblems that were sometimes placed on new Buick vehicles.
Of course, that means knowing or tracking down exactly where your Buick Regal was sold at when it was brand new.
The cool alternative however, is getting one of these Buick dealer emblems from your own local new Buick car dealership! I'm sure if you went into the dealer & told them that you were going to give them free advertising for their dealership (by placing the emblem on your car) – they'd be willing to give you one! (it would probably help if you actually had your turbo regal with you).
.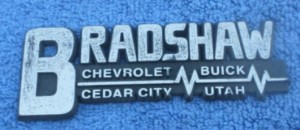 .
Want to see more Buick Dealer Emblems ?
.
Here's some other items if you're shopping for Buick merch:
(if you can't see them, turn off your ad blocker!)
Here's some related Buick items if you happen to be shopping for Buick merchandise! (if you can't see them, turn off your ad blocker!)
.