The hot topic for the last couple years has been custom center consoles for G-body vehicles.
Not so much specifically for the Turbo Regals, as most Buick Regal owners like to keep their G-body Regals as stock as they can get away with (because of resale value).
And we can't really blame these type of people, especially with the costs of these Turbo Buicks escalating over the last few years.
Stock appearing cars (usually) sell for the most money, and any significant changes from the OEM versions DO devalue the prices for most of these turbocharged vehicles.
We've seen a few Buick TR owners that actually have added a non-stock, custom made center console to their G-bodied rides.
They are probably like us, they want to enjoy their cars to the fullest, and do what they wish, and implement various custom components to suit their purposes.
Kudos to them!
(since the center console is just a bolt in unit, it's an easy to implement custom piece that won't devalue the car, as a modification such as this one, well, you could always put the stock version back in, if later needed)
If you've been following along for any amount of time on this website, you've surely seen in the "how to" posts we've made, some of the wild things and custom modifications we've done to our own 1987 Buick Grand National.
We're not really concerned about the value of how much it will be worth in the future, we don't care, we just want to enjoy it fully while we have it.
We think our posts on topics like this should give Buick Regal owners some ideas about what they "could" do to their own automobiles, if they really wanted to.
Not to mention that the majority of mods we've done on this vehicle have been mostly bolt ons, and the car COULD actually be turned back to stock for the most part, if that was ever required.
.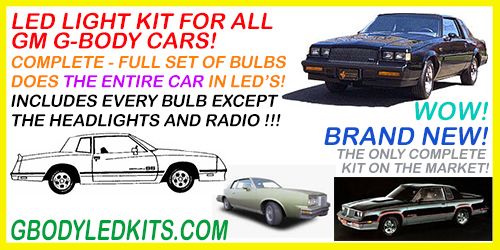 .
So, on with the show!
If you're on Facebook, we're sure you've seen all of the numerous posts about people creating custom consoles for others, for a price. And, we hope you've also seen all the warning signs about a lot of these crafters! There's plenty of rip-off artists out there! Beware if you choose to order from someone you don't know!
(the range of some of these custom units run from $200 up to $1000 depending on the options installed into them)
.
We have actually been thinking about making a custom designed creation to use as a center console, well before the latest invasion of producing them took hold.
(it's been on the back burner for quite a few years now)
The project doesn't look too daunting (considering the other things we've done in the past) but of course, this statement is being said before we actually try to make one.
Some MDF, glue and screws, padding and outer layer material of some type (cloth, leather, etc.), plus a couple accessories, all crafted and transferred from a mockup cardboard template of how we want it, and it should be awesome looking inside the Buick GN!
We want to make it a bit different than the OEM version, being as it will extend into the back seat as well! (think, "full length")
We're hoping this will be a fun (maybe, maybe not, lol) weekend project.
The shifter section area for sure will be the hardest part to incorporate from our initial thoughts. All depends on how we want to do this portion of the center console unit.
.
We have a Facebook friend (Anthony Mendoza) that just completed his own version, and it simply looks stunning!
(which kind of energized us again to get this project rolling now)
[side note: Anthony has done some really, really cool modifications and customizations to his own Buick Grand National, and sometime soon in the future, we will be showing you all of the neat things he has created!]
.
.
It is full length, meaning it runs over, into, and on top of, the back seat!
Double cup holders up front, and 2 as well in the rear for the backseat passengers! (his kids)
And the cup holders also have lights in them!
2 round holes were made at the very front to hold some gauges, and a square slot for the necessary Turbo Buick monitoring tool, the scanmaster.
A built in console box (glove box / junk box type area) was inserted in the usual factory spot between the seats, and this whole area was raised up, with the lid of the box tall enough to be used as a comfortable arm rest!
Covering the entire unit are color matched, properly used two-tone colors, gray and black leather material (to go with his custom leather seats). It's nicely stitched together for flawless seams.
His version doesn't have all the bells and whistles of some of the units we've seen (like lots of LED lighting, speakers, fancy extra curves lines or designs, etc., etc.), but does include the useful things that he needed. And that is good enough. It almost looks as if it was there from the factory.
.
.
Being the crafty type people we are, we decided to use his styling as kind of our baseline for making our own.
Not an exact copy mind you, but a similar version.
(imitation is the sincerest form of flattery?)
So that's our idea, er, well, not exactly totally our own idea, but we did have several of these features already in mind previously to seeing his version, so it's what we plan to do to create our own custom center console for the 1987 Buick Regal Grand National.
Once we completely finish the job, we plan on selling the original factory console that was in this G body Regal, and the aftermarket armrest, which will fully fund this project, as well as I'm sure add some extra bucks in our pockets too (considering that not only are Buick car prices on the rise, but the parts are also)!
(to note, we aren't like most Turbo Regal owners that insist on keeping ALL of the original factory type parts that come off of the car in storage. Once we remove it from the GN, we get rid of it since we don't need it or want it any more!)
.
Be sure to come back to this website tomorrow, and watch us start building it!
Should be another awe-inspiring "how to" post for this website!
.
Prepare yourself for a full week of how we created it!
7 exciting days (6 more after today)!
(There's a lot of steps needed to actually make this new unit!)
.
This is an ongoing series about creating a new custom center console unit for a Buick Grand National.
See the steps taken below to create (they will be linked after publication).
Find the first part (thoughts, plans) here:
Custom Center Console for Buick Grand National (1 of 7)
Find the second part (specs, parts, building template mockup) here:
Custom Center Console for Buick Grand National (2 of 7)
Find the third part (wood size choices & the weight differences) here:
Custom Center Console Buick Grand National (3 of 7)
Find the fourth part (prep work, cut out parts) here:
Custom Center Console Buick Grand National (4 of 7)
Find the fifth part (building the console) here:
Custom Center Console for Buick Grand National (5 of 7)
Find the sixth part (wiring up all the lights) here:
Custom Center Console for Buick Grand National (6 of 7)
Find the seventh part (installing the console) here:
Custom Center Console for Buick Grand National (7 of 7)
.