Yesterday, we showed you the Buick Regal from the CARS movie.
Today (3-21-21), we noticed this (supposed) Rare Unreleased Prototype of the Chick Hicks car, listed on ebay, for just $100!
It looks more like the Buick Grand National that we are accustomed to seeing, being as it's all black, has GN decals on it, tail lights (which weren't on any of the other replica toys), etc.
(except of course for the "GNX" decal on the grill, ALONG with the Grand National ones on the fenders, which is unusual, but toy creators often get the details wrong!)
But, is it really an actual prototype?
Did Disney Pixar intend to have a Buick Grand National in the movie?
I'm thinking probably not, as if you look at all the other race vehicles from the movie, they resemble the stuff you'd see in the 1970s and early 1980s.
The Chick Hicks car that WAS in the movie (the blue or green car) looks like it's based on the 1981/1982 Buick Regal which WAS used in actual stock car type racing in the early 1980s.
So that one would make it seem correct.
The scale diecast listed on ebay "could be" a hand made custom (or maybe not).
The seller reveals basically no information about this particular vehicle.
However, on the bottom of this car, it does have "3013EAA" stamped on it, which is mostly in line with other special numbers being inked onto other prototypes or test shots, etc., but that's not really a guarantee that it's genuine or not.
Who knows. Other strange looking prototype diecasts have popped up that don't look like they belong (and probably why they weren't released).
I'm not sure if it's a real prototype or not, but either way, it is kind of cool looking.
The photos below are from the sellers listing.
( you can see it here: https://www.ebay.com/itm/DISNEY-PIXAR-CARS-Unreleased-Buick-Grand-National-Chick-Hicks-prototype-Rare/224393625354 )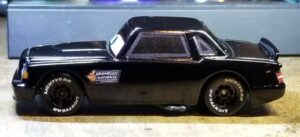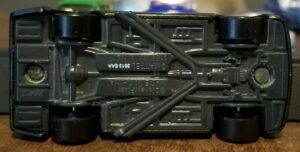 .
Here's some related Buick items if you happen to be shopping for Buick merchandise! (if you can't see them, turn off your ad blocker!)
.