Not only does this Buick Grand National have custom 5 spoke wheels with redline tires, it's also been dipped in gold, creating a 1 of 1 custom Buick Grand National.
Starting off life as a 1:64 scale Hot Wheels diecast car, it was transformed and placed into an acrylic case, with a neat Route 66 background display.
This specially made vehicle was produced by a custom diecast car producer (@ANT_HWS on Instagram) for their 30k giveway (not sure if this was maybe for having 30k subscribers?) at @diecast_hunter.
[these details supplied from the sellers listing and photos]
We saw this Buick diecast car for sale on ebay recently, where the seller said he won this car years back (so it's unclear exactly when this toy was made). The starting bid is $40 with a buy it now price of $100 (plus $5.50 shipping).
[the auction closes Tuesday night 12-20-22 if you're interested in acquiring it; you can search the title of this post on ebay to find this specific listing]
We thought the car looked pretty neat, hence us showing it to you here.
.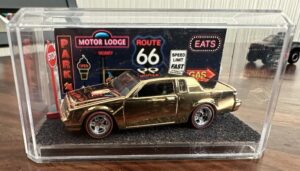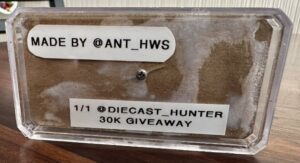 .
Here's some related Buick items if you happen to be shopping for Buick merchandise! (if you can't see them, turn off your ad blocker!)
.