Mijo Exclusives, AKA M&J Toys Inc., as a follow-up to the 1987 Buick Regal T-type WH1 diecast car, is releasing a black Buick Grand National, scheduled to come out in Februrary 2019.
Again, produced by diecast car maker Johnny Lightning, this model will be limited to 3600 pieces. Item Number: JLCP7178-24, created in 1/64 scale.
Titled as a "1987 Buick Grand National GNX" it appears to have fender flares and the GNX grill emblem, but does not have the fender vents. It does have white letter tires, but not the correct rims for a Buick GNX (nor a Grand National). The interior also seems to be all gray.
The artwork on the package is fairly attractive with the design and featuring a photo of a real Buick GN (that has the GNX vents on it!).
Despite all of the errors for a GNX as we know them, it is one more G-body Regal vehicle created and brought to the world to create more awareness to our beloved Turbo Buicks.
.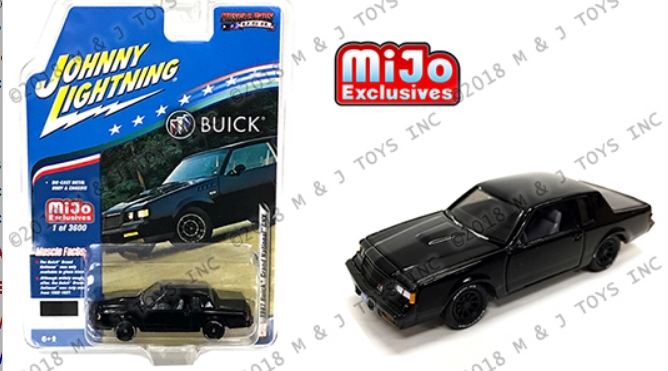 .
The chase car for this series features white paint, white tires, GNX fender vents (unlike the regular Grand National) & what appears to be a chrome interior!
(currently selling for about $60 shipped on ebay, as of Jan 2019).
.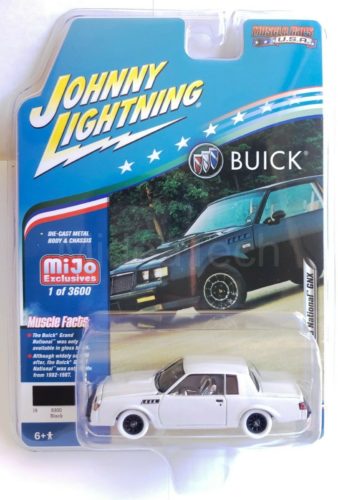 .
Buick Merchandise For Your Consideration:
.