Kelly shares a cool story with us…
In 1997, I owned my first Grand National, an '87. It was ten years old, it had the cracked GM paint but it was very straight and solid and looked decent at night.
My brother and sister in-law were throwing a halloween party at their house about an hour away from where I lived. It is a medium sized town in Ohio with a half dozen police cars on patrol at any given time. My brother is a prison guard and he is friends with quite a few of the cops around there. It was a nice evening, no rain, cool but not cold outside.
I pulled up the driveway just after dusk and on the front porch of his house was about half of the party all standing around, smoking cigarettes, drink beers, whatever. When they heard my car pull in, the exhaust note got their attention and they all filed out to see my car. The exhaust was bone stock except when the catalytic converter plugged up, I removed it and put a piece of straight pipe in its place. I had that 3.8 liter grumble at idle but a severe turbo whistle when the gas was stepped on, even just a little. It sounded so sweet!
.
Anyway, my wife and I got out of the car and I had a dozen questions asked of me about the car, etc. One question came at a surprise to me, a pretty woman whom I never met before asked me to give her a ride! I was shocked to say the least, I do not know her! Well, I talked to my brother, he told me he is a friend's wife, he is a local cop. I asked him he told me it was OK! Well, I didn't want anybody talking crap about me taking a married woman out for a "ride" so I promised I would take her around the block and be right back.
My brother lived about 5 minutes from the interstate so I told her I would take her one exit south, turn around and take her back to the house. Easy Peasy nice-n-cheesy, right? I turned south on I-75, headed up the on-ramp and got level with the road, checked for any strange cars on the side or the center, found it clear and floored it! Of course, the car ran magnificently and before long I was on the brakes slowing down to take the off ramp. It was around 8 p.m. and traffic was light. The signal turned green, I turned left and all the sudden there was red and blues lit up behind me as I was turning left to get back on the highway! Crap! I pulled to the right side of the ramp, put the car in park and waited for the speeding ticket from hell. Then to my horror, there was another cop behind him with his lights on too. ACK! I'm going to jail! I just know it! AND I am with the wife of one of these guys buddy! This was way before cell phones, I could not call anyone for help at the party, I just sat there sweating for a minute waiting on destiny to haul me away.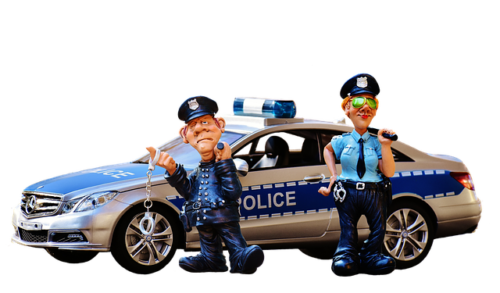 Anyway, these two cops come up to the drivers side window, didn't ask me for I.D. or registration, nothing. He simply said "How fast does she go?"
I said "Excuse me?"
"Oh c'mon! How fast will she run?"
I said "Well, the computer shuts it down around 125."
Then I was blown away when the other cop said "Wanna run 'em?"
"What?"
He repeated "Let's race down the highway! Let's see if it'll outrun my police car!"
I think I had to pick my jaw up from the floorboard and I politely said "How about we go to KilKare (A race track in Xenia) and find out? I don't want to go to jail for beating a cop!"
They laughed a little and told me to have a good evening and got back to their cars.
I pulled away and went back to my brothers.
I asked the lady's husband about the encounter and he told me I should have raced them, they are cool, I wouldn't have got in trouble.
Damn!
My name is Kelly, I live near Dayton Ohio. This is a true story. A couple years after this story, I got divorced, forced to sell that car, my '77 Trans Am, my 6.2 K-5 and my house! I now own another 87 Grand National and the engine is pulled out of the car being rebuilt right now. I love these cars, everybody always give me a double take and a thumbs up or they come to me in a parking lot to gawk or talk about it. I hope you enjoy yours as much!
.
* * * * * *
Got a cool auto story of your own that you'd like to share with our readers?
Find out how
* * * * * *
.