If you've never seen the cute Disney Pixar movie entitled "CARS" which was made mostly for kids, but is enjoyable by most adults as well, you should check it out.
Produced back in 2006, the movie was so popular it spawned 2 sequels (2011, 2017).
There's a car in the movie named "Chicks Hicks" which is voiced by Michael Keaton.
This blue, then turned green colored race car, is the cartoon representation of the Buick Regal, which was popular in the stock car racing scene in the early 1980s.
As with most successful movies, toys are created based on the movie.
A lot of the vehicles from the movie were recreated as diecast versions.
Chicks Hicks cars were one of them.
As often done by toy makers, when a product sells well, they mass produce many different versions of the same vehicle, often making small changes, different styled packaging, or adding in some extra toys with the main vehicle.
The originally produced car #86, Chick Hicks car (green), & the Dinoco Chick Hicks car (blue) can be seen here:
CARS Movie Buick Regal Diecast.
After those were created, in timing with the movie sequels, several other versions were created as shown below.
.
Disney Pixar Cars Shake N Go Chick Hicks, 6 inch size, made by Mattel, from 2008, which used 3 AA batteries to operate:
.
Disney Pixar Cars Diecast Chick Hicks Forklift Semi Truck set: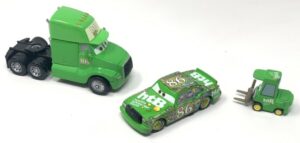 .
Disney Pixar Cars Chick Hicks Mack Truck Semi Set: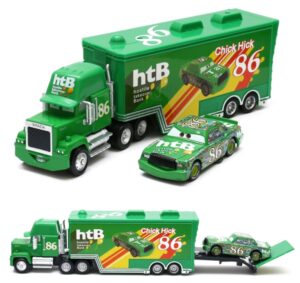 .
And now, even 3 years after the last movie was made, and 14 years later than when the original movie premiered, scale toy cars are still being created based on it!
The "CARS" movie, along with all of the accompanying toys that were created by Mattel were so popular, and apparently still are, that the Disney Pixar cars series is still being produced!
Here's the "silver collection" versions made in 2020, all vehicles in the color of silver metallic, complete with racing decals and NASCAR type wheels.
.
Disney Pixar CARS Chick Hicks SILVER Collection 2020: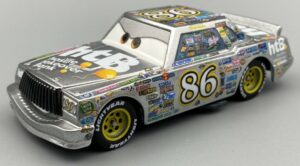 .
Here's some related Buick items if you happen to be shopping for Buick merchandise! (if you can't see them, turn off your ad blocker!)
.