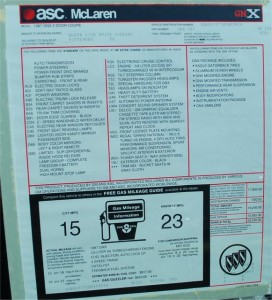 Buick Regal GNX Specifications:
Price
Base price: $29,290
Engine
Type: OHV V-6, cast-iron block and cylinder heads
Displacement: 231 cubic inches
Bore x stroke: 3.80 x 3.40 inches
Compression ratio: 8.0:1
Horsepower @ rpm: 276 @ 4,440
Torque @ rpm: 360-lbs.ft. @ 3,000
Valvetrain: Hydraulic valve lifters
Main bearings: 5
Fuel system: Buick/Bosch Sequential Fuel Injection, Garrett T-3-modified turbocharger, intercooler
Lubrication system: Full pressure
Electrical system: 12-volt
Exhaust system: Single catalytic converter, 2.25-inch dual low-restriction mufflers and dual outlets
Transmission
Type: GM re-programmed Turbo Hydra-Matic 200-4R automatic with aluminum auxiliary cooler
Ratios 1st: 2.74:1
2nd: 1.57:1
3rd: 1.00:1
4th: 0.67:1
Reverse: 2.07:1
Differential
Type: Hypoid, 8.5-inch GM 2TP, Positraction, aluminum cover
Ratio: 3.42:1
Steering
Type: Recirculating ball, power assist
Turns, lock-to-lock: 3.64
Turning circle: 34.1 feet
Ratio: 13.97:1
Brakes
Type: Hydraulic, power assist
Front: 10.5-inch discs
Rear: 9.57-inch aluminum drums
Chassis & Body
Construction: Welded steel panels on full-perimeter frame with additional crossmember and bracing
Body style: Two-door coupe
Layout: Front engine, rear-wheel drive
Suspension
Front: Independent, upper and lower control arms, 77-N/mm coil springs, Delco Grand National shock absorbers, 32mm anti-roll bar
Rear: Panhard bar, torque bar, 21.9-N/mm coil springs, 19mm anti-roll bar, Delco Grand National shock absorbers
Wheels & Tires
Wheels: JWC two-piece welded aluminum
Front: 16 x 8 inches
Rear: 16 x 8 inches
Tires: Goodyear Eagle GatorbackVR50
Front: 245/50R16
Rear: 255/50R16
Weights & Measures
Wheelbase: 108.1 inches
Overall length: 200.6 inches
Overall width: 71.6 inches
Overall height: 54.6 inches
Front track: 58.5 inches
Rear track: 57.7 inches
Curb weight: 3,545 pounds
Capacities
Crankcase: 6 quarts (with filter)
Cooling system: 12 quarts
Fuel tank: 18.1 gallons
Transmission: 11 quarts
Rear axle: 3.5 pints
Calculated data:
Bhp per c.i.d.: 1.19
Weight per bhp: 12.84 pounds
Weight per c.i.d.: 15.34 pounds
Production
Buick produced 547 GNX models.
There were nine prototypes built (only 1 still exists, a 1986 model, resides in Ohio).
1 GNX (#000) was used as a test fit quality control car by ASC (resides in MI).
1 1986 T-type was converted into a white GNX by an ASC employee (GNX XRAY)
Performance
Acceleration:
0-60 mph: 5.5 seconds
0-100 mph: 13.0 seconds
1/4 mile ET: 13.43 seconds @ 100 mph
Top speed: 124 mph (governed)
.