More for your money with buick!
1983 Buick Value Packages were put together so consumers could save money when they selected certain options on their new car purchase.
This factory original brochure explained the items that needed to be included, and the choices that were supplied at no additional cost.
This was "A guide to special 1983 Buick Bargains" – see it below!
.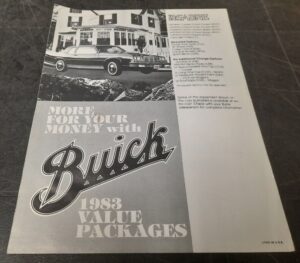 .
Here's some related Buick items if you happen to be shopping for Buick merchandise! (if you can't see them, turn off your ad blocker!)
.