New for 2022, this 1:64 scale diecast car is called the "'87 Buick Regal GNX" and is number 7 of 8 new vehicles created in this series.
The "Ultra Hots" series name itself isn't new, it makes its appearance every 10 years or so (since the 1950s!), but the package designs and car styles get changed and updated.
This Buick Regal features a wild multi-color paint job with assorted placed pinstripes also includes the Hot Wheels logo emblazoned on the rear quarter panels. A newly designed style of gold wheels rests on the chassis.
Hot Wheels proclaims these are the "Hottest metal cars in the world!"
All of these fun Hot Wheels vehicles are created in Malaysia.
This freshly produced adult collector car is available exclusively from the Target stores. (but can be purchased for around $12-15 or so online)
.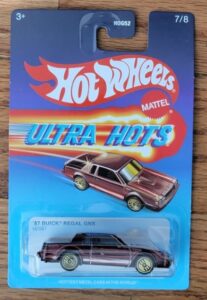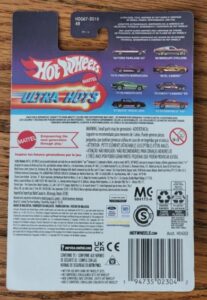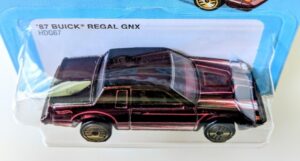 .
Here's some related Buick items if you happen to be shopping for Buick merchandise! (if you can't see them, turn off your ad blocker!)
.