Back in the 10950s & 1960s a popular advertising method for Buick automobile dealerships was to pass out a pack of matches.
These often featured the Buick dealerships name as well as a picture of the new Buick vehicles.
.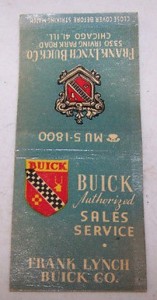 .
Here's some other items if you're shopping for Buick merch:
(if you can't see them, turn off your ad blocker!)
Buick Merchandise For Your Consideration:
.