The brand known as De Agostini, from Italy, has produced several different diecast vehicles of "American Cars" in 1:43 scale.
All hand painted, made from metal and injection-molded plastic.
The 1987 Buick Grand National is one of them, amongst a few others we saw (1979 Trans Am, 1969 GTO, 1970 Z/28, 1972 Buick Riviera).
Apparently De Agostini sells magazine subscriptions about these "American Cars", which include 1 of these die cast cars with every issue!
They state there are 80 issues planned!
The first issues had replicas of 1960s-1970s stock car race cars (69 Mustang, 72 Gran Torino, 70 Superbird, etc.).
These smaller 1:43 scale collectibles are popular overseas, but not created often here in the States, where we prefer sizes such as 1:18, 1:24 and the 1:64 (hot wheels) type versions.
There's only been 2 different Buick GN's previously made in the 1:43 scale:
Greenlight Fast and Furious, and the one from Auto World (which came in black or white colored versions).
The De Agostini Buick GN car looks to be a brand new casting, judging by the wheels that aren't on any of the other vehicles created in this scale.
The details look pretty accurate, interior is good, hood emblems & fender decals.
It comes in a plastic hard display case, with a placard at the bottom of the stand, stating this automobile is a "Buick Grand National (1987)."
This is all attached to a carded backing.
Notice the "you are leaving New Mexico" sign in the photo background!
These 2 photos are the only ones available of the 1987 Buick Grand National (for now, perhaps others will be shown later).
The car shown below is being sold on ebay (buy it now for $37 + $18 shipping).
So about $55 total to own this in your collection.
(not too bad considering that was about the price of the Autoworld version when they came out)
.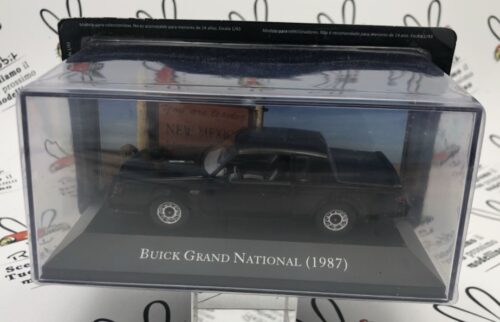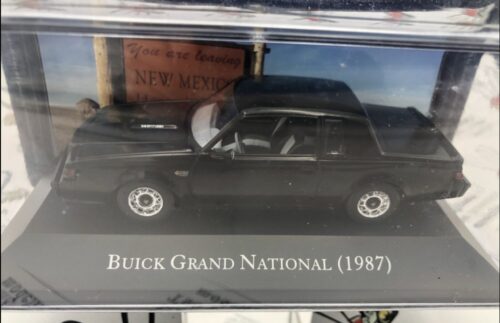 .
Here's some related Buick items if you happen to be shopping for Buick merchandise! (if you can't see them, turn off your ad blocker!)
.