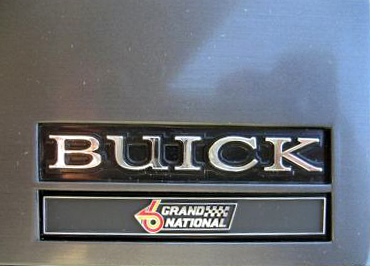 General Motors introduced the mid-sized Buick Regal in 1972 for the 1973 model year, and it mostly flourished through four vehicle generations before GM ceased production of it in 2004. Production in China, which had begun in the 2003 model year, continued despite cancellation in the US.
In 2008, GM launched an all-new Buick Regal based on the
Opel Insignia in China.
A year later, they announced that the model would be
returning to the U.S. market for the 2011 model year.

In 1982, during the Regal's second generation, GM introduced
a Buick Grand National for sale.
In 1981 and again in 1982, Buick had won the Manufacturers Cup.
The model is named for the NASCAR Grand National racing series, was their way of celebrating and cashing in on that success.
The first of the Grand Nationals were charcoal grey, quite different from the all-black motif for which it would be famous. These early Grand Nationals were just Regals off the line that GM would then send to a subcontractor, Cars and Concepts in Auburn Hills, Michigan, for the conversion.

They intended 100 units, but sold 215 in the end, and received far more buzz than they had expected. Despite that excitement, the 1983 model year came and went without a Grand National in the Regal lineup, but it was back and in black for 1984. This new Buick Grand National for sale boasted refined sequential fuel injection and a turbocharged 3.8-liter engine, which produced 200 horsepower at 4400 rpm and 300 pound-feet of torque at 2400 rpm. Buick produced only 2,000 units this year.

The Buick Grand Nationals for sale in 1985 and 1986 each got minor performance increase, and by the 1987 model year, performance was up to 245 horsepower and 355 pound-feet of torque. With the drop of the T-Type Regal package, sales were up over 27,000 units, and of these 27,000, approximately 1,500 were the WE4, a lightweight Turbo T option package. The differences between the standard model that year and the WE4 were the badges, wheels, and interior trim package.

However, even sales as high as 27,000 units was not enough to offset the cost of production.
The niche market had just not grown large enough fast enough, and it was destined to be short-lived.
For that final model year, Buick introduced a Buick Grand National for sale called the GNX.
Buick marketed the GNX, which McLaren and ASC produced for GM, as the "Grand National to end all Grand Nationals", and the list price was nearly $30,000.

That was an astonishingly high price for that period for a car of this nature.
Was it worth it?
Over the stock GN, it included a Garrett turbocharger, a low-restriction dual exhaust, a specially calibrated Turbo Hydra-matic transmission, a custom torque converter, a transmission cooler, and a host of other features that amounted to 276 horsepower and 360 pound-feet of torque.
For visual style, the GNX came with special tires, 16-inch black mesh wheels, and a slew of minor styling cues that combined for great effect.

The good news for enthusiasts is that despite limited numbers, they can purchase a Grand National that requires work or has high mileage on the engine for several thousand dollars.
However, if you want one in better condition, prices rise quickly, and they range as high as $50,000 and beyond.

Dan Legal is a member of the web team that runs the website LemonFree.com.
LemonFree is a car search engine which currently has over 2 million new and used cars for sale.
If your trying to locate a Buick Grand National; trust LemonFree to help you find your next car today!
Article Source: http://EzineArticles.com/?expert=Daniel_Legal