GBodyParts has opened up a new warehouse in Connersville, IN.
This 650,000 square foot facility will make getting your orders quicker.
In celebration of this new building, they're having an event!
On October 1 from 9 AM – 6:00 PM and Sunday, October 2 from 11:30 AM – 4:00 PM they are holding their first annual open house and swap meet, the Connersville Auto Fair.
Event will be held in GBody Parts 21st Street gated lot (behind IvyTech).
This swap meet is open for buying, selling and trading anything automotive related. There are over 300 indoor and outdoor vendor spaces available.
LOCATION:
GBody Parts LLC
800 W 18th Street
Connersville, IN 47331
For more details shoot us an email bweavy@gbodyparts.com or sandy@gbodyparts.com or give us a call at our Indiana location – 765-377-7092.
More details:
https://gbodyparts.com/info.php?pages_id=37
https://www.facebook.com/events/788178589268086/788192179266727/
Free event T for everyone who pre-registers!
If you're in the area, or open to a day trip, you should probably go check this out!
Rain or shine, the show must go on!
.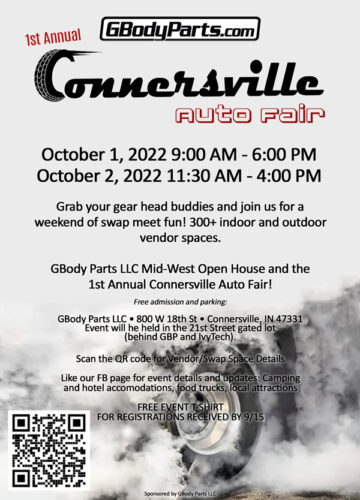 .