Anybody who's been in the know for the last couple decades, surely has heard of the car they call "The Pumpkin."
This orange painted Turbo Regal, owned by Jack Cotton (of the famed Cotton's Performance in MA), is a legend in the Turbo Buick world!
There aren't that many well known and iconic Buick Regal vehicles in our community, but this one is a truly great piece of Buick history.
The time has now come for Jack, who has decided to sell this awesome Gbody Regal!
Want to own something special? Here's your chance!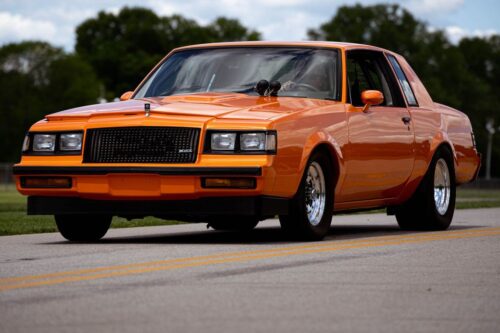 .
.
Here's what Jack has to say about THE PUMPKIN:
It's The Pumpkin, a 1986 Turbo T-type, my heart and soul for the last 25 years.
I've had great times both on the street and at the track, memories for a lifetime.
It's time to share the joy of a classic car with someone that can appreciate where it's been and where it can go.
1200HP is no joke.
This car has never been pushed to it's limits and has run 8.36@168 in the 1\4 mile.
I'm not going to tell you it's a street car, although I've been known to take a ride around town and to some local car shows.
Did I tell you what motor powers it …
it's just a little V6, stage2, 153 block with a PTE88 turbo.
Somewhere around a whopping 260ci.
solid roller cam, Diamond pistons, Molnar crank, Crower rods, the best Champion aluminum heads and intake money could buy.
Modified ATR headers, 6″ core Cotton's fabbed frt mnt inter-cooler, Aeromotive pro series fuel system, Qa1 double adj drag coil overs, front and rear, TRZ front adjustable chrome moly a-frames and Wolf Racecraft rear double adjustable upper and lower chrome moly control arms, with a Wolfe sway bar.
8pt roll cage, Kirky race seats, all new electronics, FAST XFI and E-Dash, Leasch boost controller with bump box.
2 speed turbo 400, PTE convertor, new trans cooler with fan, aluminum rad with dual fans, Notched frame rails with 10″ Weld star rear rims.
Fiberglass hood, trunk lid and doors with crank windows.
Baer front disc brakes, MT front and rear pro tires.
Paints not perfect, but presentable, no rust underneath.
I'm sure there is much more I can add, for the most part, the driveline, motor, trans, rear end, struts, electronics have all been replaced or rebuilt, with mainly dyno time and about a handful of mild, break in 1\2 track passes.
Please, serious buyers only, open to offers … PM here.
I'm going to run it on here, but may go Ebay at some point.
Also has Caspers engine harness, XFI harness, injector harness, dual fan harness.
.
(8.57 @ 166 mph!)
.
.
(8.45 @ 167 mph !)
.
.
Contact Info for those who are interested in acquiring THE PUMPKIN:
Jack Cotton
https://www.facebook.com/jack.cotton.35/
413-246-4939
.
.