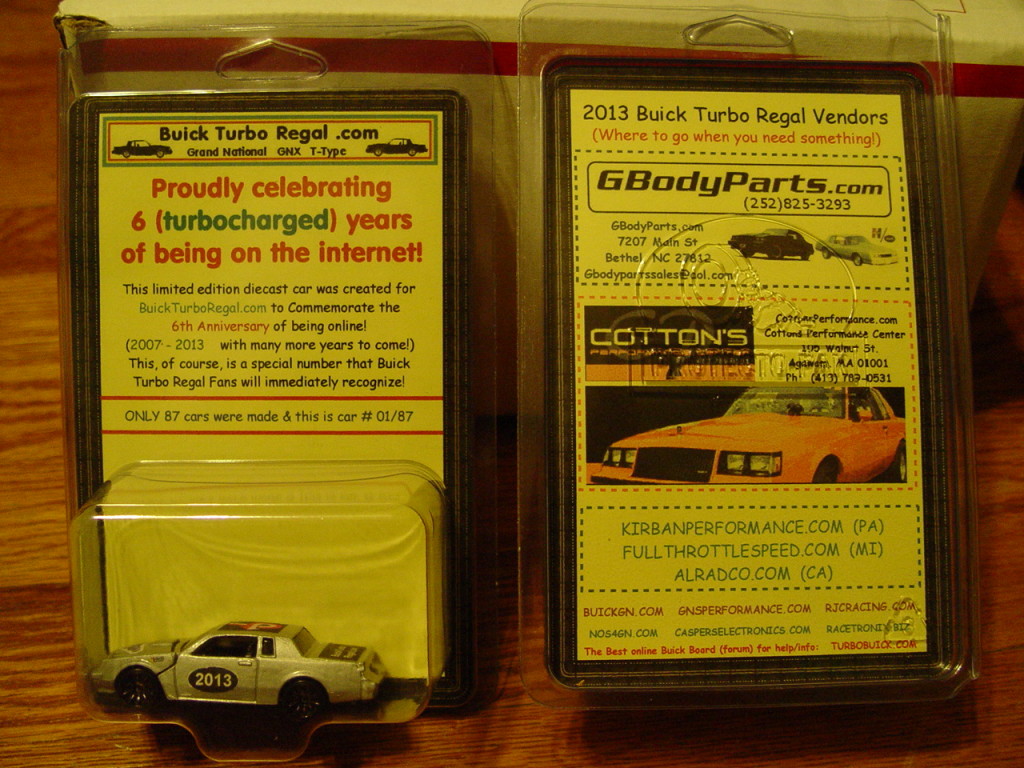 BuickTurboRegal.com is celebrating 6 (turbocharged) years of being online!
And as any Turbo Buick fanatic knows, "6" is a very special number!
So we've had a special diecast car created to commemorate this event!
These cars were produced in a very limited run, of just 87 made!
(Get it? '87?)
On the back of the display card that comes inside the protecto-pak, is a useful list of Buick Turbo Regal Vendors that are still around in 2013!
After all, when you own one of these cars, you're bound to need some stuff!
Gbodyparts.com (located in North Carolina)
CottonPerformance.com (located in Massachusetts)
amongst several others that are shown on the reverse side!
This die cast silver colored Buick Grand National hot wheels sized Gbody features a cool turbo 6 logo on the roof, blacked out rims, the buick hawk on the hood, rally-style number 2013 on the sides (for the year), and the BuickTurboRegal.com nameplate on the trunk!
There's also a neat Buick-themed bonus in the box!
(NOT shown in the pictures! It's an unmentioned surprise!)
Want to own one of these cool Limited Edition Anniversary cars?
They're appropriately & specially priced too!
Just $6.87 shipped to your door! (USA only!)
AWESOME addition to your Buick die cast collection!
>>> BUY IT NOW – RIGHT HERE! <<<
[1 Anniversary Car $6.87 shipped to your door in the USA!]