This plastic replica of the #27 Valvoline Grand National stock car driven by Cale Yarborough is a radio controlled version in 1:40 scale.
The Buick Regal is about 6″ long and 2″ wide, made in 1981 in Taiwan ROC for Ertl-a subsidiary of KIDDE.
This pre-NASCAR race car goes forward and reverse and turns in reverse.
Vanity Fair is stated on the box, which I believe is the magazine, and they sold assorted items back in the 1980s.
We saw this one listed on ebay recently with an opening bid of $29.99 (+ $8 shipping).
.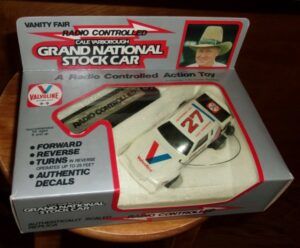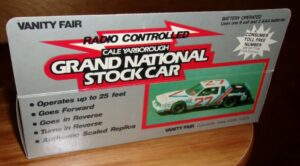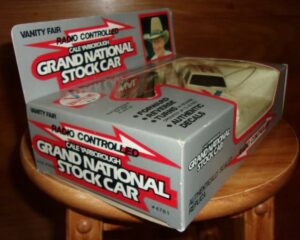 .
Here's some related Buick items if you happen to be shopping for Buick merchandise! (if you can't see them, turn off your ad blocker!)
.