Buick Dealer emblems like shown herein could be the finishing touch you put on your Buick Grand National to bring it back to the OEM state it was when first seen at the new car dealership.
The other neat uses for Buick dealership emblems however, include acquiring them for your Buick memorabilia collection (if that's what your into), or placing them on your toolbox (which should be nearby your turbo regal)!
.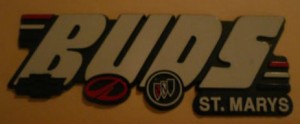 .
Want to see more Buick Dealership Emblems ?
.
Here's some other items if you're shopping for Buick merch:
(if you can't see them, turn off your ad blocker!)
Buick Merchandise For Your Consideration:
.