There's no better place to see almost all varieties of G-body cars (Buick Regal, Oldsmobile Cutlass, Chevrolet Malibu, Monte Carlo, El Camino, Pontiac Grand Prix) than the yearly Classic G-Body Garage car show.
We heard there were over 300 Gbodies in attendance, with more than twice that in spectators checking out all the fabulous vehicles sprawled throughout the parking lot.
CGBG always states "any condition" vehicles are welcome at this event, no matter what stage your car is in, bring it!
And numerous auto buffs did exactly that!
(but don't get that wrong, the majority of the cars that are here are already finished, and are truly beautiful rides!)
(and the ones that aren't done yet, are cool too, and are being completed as time goes on [AKA "project car"], so keep at it guys, you'll get there one day! It's awesome that you're restoring and/or customizing them!)
We're grateful that so many participants brought their GM Gbodies here!
It's a 3-hour (1 way) trek for us to get here, with anticipation and excitement that grows every mile until we arrive, so it's always pleasant to see the hundreds of autos that are on display at this event.
[see YOUR car? Feel free to "right click and save" the photos if you want!]
.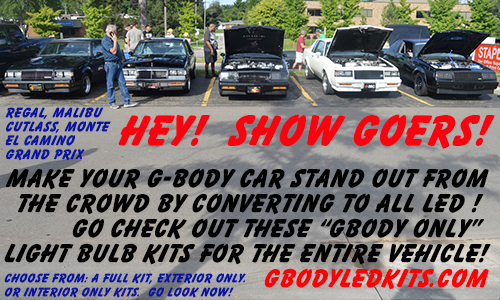 .
[ want to learn more about the CGBG? Find them on Facebook (but do note it's a private group, so you'll have to join to actually see their posts): facebook.com/groups/classicgbodygarage/ ]
.
Check out the pics below, and be sure to come back tomorrow to see lots more!
.
.
If you missed any of these posts, the links below will take you to them!
Classic G-Body Garage Show (Part 1)
Classic G-Body Garage Show (Part 2)
Classic G-Body Garage Show (Part 3)
Classic G-Body Garage Show (Part 4)
Classic G-Body Garage Show (Part 5)
.