The 2023 Classic G-body Garage event had extended show hours from 11am- 7pm, which was a great thing, since it takes quite a few hours to walk the grounds if you actually want to see everything!
The Medina, OH, Fairgrounds is huge, as you'd expect any venue like this to be.
The actual show area where this event was held, is just a section of the entire Fairgrounds.
This CGBG show needed to be held at a larger place, to accommodate the ever expanding crowd that attends.
As you can see from these photos, there's now plenty of room for you to participate, so if you didn't bring out your GM G-body this year, mark it on your calendars for next year!
(and as an added enticement, know that you'll get your vehicle posted on here, just like what we've been showing you the last few days! Your car will become famous! lol)
Once again, a big THANKS goes out to Brian Suter and Frank Hooks Jr., for always providing an excellent experience for everyone involved.
(as well as all of the other people that are behind the scenes)
Wishing you continued success, guys!
[Thanks to the many sponsors too, who offered up G-body merch, parts and whatnot, to be given away at this event. The raffling off style of these items allows a show like this to continue on year after year, providing all of us an enjoyable experience for a day! (or longer for those wishing to do the camping thing)]
Vendors at the show:
Mike's Montes, Southside Machine Performance, Team g-body, Intellitronix, Turbo Stitches.
CGBG sponsors:
The Parts Place, Dixie Restoration Depot, Inline Tube, 80z Performance, Classic Industries, Pull a Part.
[I believe there were a few others as well, but don't recall who they were]
.
.
We're showing you some of the raffles that were conducted from the event.
CGBG also raffled off a 1987 Oldsmobile Cutlass, (just like they did last year), see it below. Entries cost $10 each, and even though we didn't win it, we were happy for the guy that did!
A younger guy (probably in his 20's we're guessing), who said he purchased just 6 tickets! Quite a great investment on his part! Congrats!
.
THE 1987 CUTLASS THAT WAS RAFFLED OFF, ALONG WITH THE WINNER:
.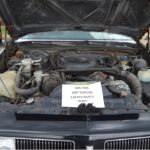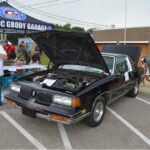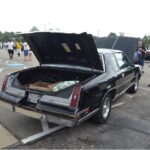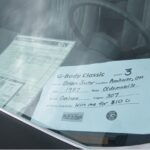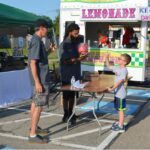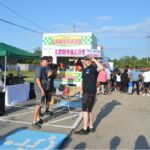 .
Numerous other goodies were packaged up, and raffle tickets cost $1 a piece for a chance to win any of them!
[you put your ticket(s) in the barrel of your choice, per the product you wanted to take a chance on winning]
You can't win if you don't play, so we indulged.
We believe in participating in this way at these type of events, as even if you don't win, you get a chance to do so, and it helps support whatever event you're at.
1 (red) car ticket $10, and $10 (blue tickets) for various auto parts (we tried for 4 parts).
In total, we bought $20 worth of tickets, and ended up coming home with the chrome Buick Regal grill! How awesome is that?!
[THANKS Classic Industries & The Parts Place!]
.
Our trip:
$70 in gas, $10 turnpike toll, $20 in raffle tickets, $100 spent.
The grille retails for $349.99.
Once again, a very worthwhile trip for us!
And seeing all the cool GM G-body vehicles here, talking to old & new friends… priceless!
This is quickly becoming our #1 favorite auto event of the year!
.
THE CROWD GATHERED FOR THE PARTS RAFFLES:
.
.
I commend the CGBG for the way they choose the car award winners.
If your car won last year, you can't win this year.
(but you're eligible again next year)
As they stated, with a limited amount of trophies (they passed out 12 this year), they want to maximize the possibility for any Gbody to be able to win in each of the specific categories.
Congrats to the Buick guys, they took home 5 out of the 12 trophies!
.
THE TROPHIES, ALONG WITH THE WINNERS:
[I didn't take down any names, but you'll probably recognize some of these guys]
[the CGBG facebook page has a video that shows the winners and what the classes they won for]
.
.
At a price of just $10 for spectator car parking (or if you brought your Gbody: $25 outdoor show parking; $50 indoor show parking), this is a pretty reasonable expense for a full day of fun.
.
[see YOUR car, or YOU in these posts? Feel free to "right click and save" the photos if you want!]
.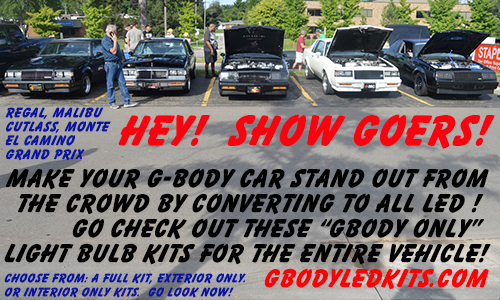 .
[ Here's the Classic G-body Garage website, if you'd like more information on what these guys do: classicgbodygarage.com ]
.
This concludes our series from this event, we hope you have enjoyed our walk thru tour of the 2023 CGBG car show extravaganza!
Hope to see ya next year at this special event!
.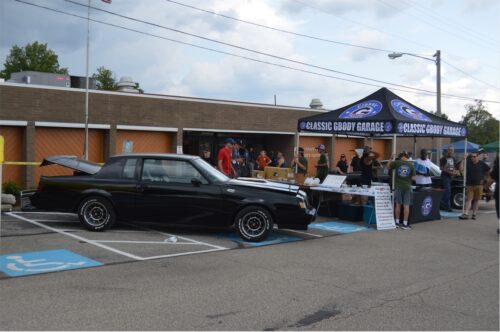 .
If you missed any of these posts, the links below will take you to them!
Classic G-Body Garage Show (Part 1)
Classic G-Body Garage Show (Part 2)
Classic G-Body Garage Show (Part 3)
Classic G-Body Garage Show (Part 4)
Classic G-Body Garage Show (Part 5)
.