Similar to yesterday's post about hobbyists who create their own custom made Buick Grand Nationals using Monogram model car kits, today we're showing you a cool paint scheme reminiscent of the Buick GS.
A lot of the features from the Gran Sport or GSX have been incorporated onto this Buick Regal.
With a yellow paint scheme with those famous black stripes, the rear spoiler, hood tach, engine, and interior components, this truly is the best of both worlds for Buick fans!
I would imagine that 2 Buick kits were combined to create this model, the Grand National kit, and the GSX kit.
.
Then, here's 2 other custom built creations.
A convertible silver Buick Grand National with aftermarket wheels.
Another custom painted silver colored Buick Grand National with a blower sticking thru the hood.
.
For about $25 plus paint (and any other extra add-ons you want), you can build your own custom model car kit to suit your own fancy.
.
.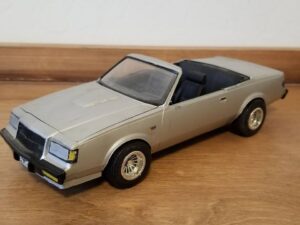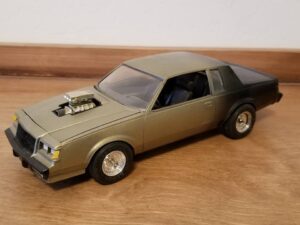 .
Here's some related Buick items if you happen to be shopping for Buick merchandise! (if you can't see them, turn off your ad blocker!)
.