From the Sales Promotions Department over at Buick Motor Division, this Product Information Bulletin Folder contained 8.5″ x 11″ spec sheets about the Century, LeSabre, Skylark, and Buick Regal.
Proclaiming "The Best Savings are Now" the brochure showed off some of the 1981 Buick automobile model lines (including Regal, Regal Limited) that offered a savings discount with select packages and options that could be ordered.
One of these page guides inside the folder, a "Special Limited Editions" fact sheet about specific Buick vehicles, including the Regal Limited Somerset II (M47), with a package code (Y49) which included L/E paint treatment (dark Sandstone and Camel with striping), luxury interior (Camel cloth seats with dark brown piping), Dark brown deep pile carpeting, and special painted turbine wheels with center camel accent paint.
The other featured car on this pamphlet was the 1981 Buick Skylark Limited Coupe (C37), and the Skylark Limited Sedan (C69). It had required options for the Package code (Y46).
Several other detailed brochures were also within the folder: LeSabre Limited Collectors Edition amongst them.
An EPA mileage stats statement was released on one of the Product Information Bulletins within this collection.
This Buick publication, named "A Guide to Special 1981 Buick Bargains" was listed recently on ebay, and you could have acquired it for your Buick literature collection for around $12 shipped!
A nifty item if you own a 1981 Buick Regal (or any of the vehicles that were herein)!
.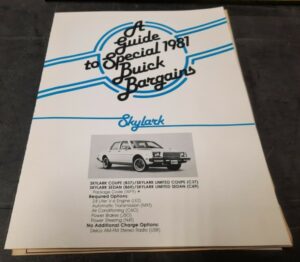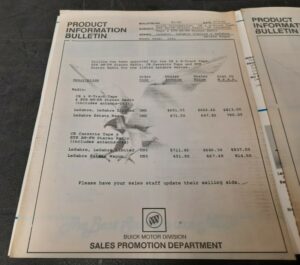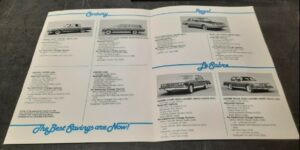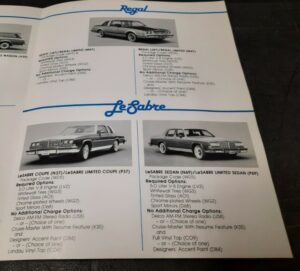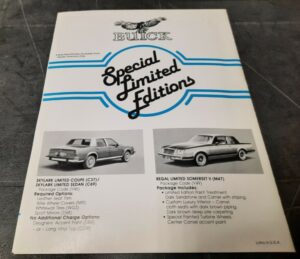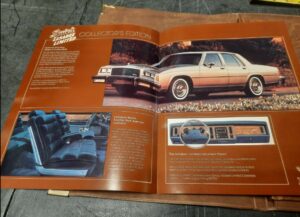 .
Here's some related Buick items if you happen to be shopping for Buick merchandise! (if you can't see them, turn off your ad blocker!)
.