Next month residents of Illinois (or nearby states) may want to attend this event!
.
GN T-Type Central Get Together.
held by the Chicagoland Buick Chapter.
On Saturday, June 6, 7 & 8, 2014.
.
The main dates are Saturday and Sunday June 7th and 8th 2014.
Location is the Holiday Inn, 860 Irving Park Road in Itasca, Ill.
The two-day event includes a car show, cruise, swap meet and racing.
Sponsored in part by the Chicagoland Buick Chapter.
Security will be provided.
There is also a meet and Friday night, June 6th.
For more information, contact Benny at 773-251-8198 or Prasad at 630-965-1987.
.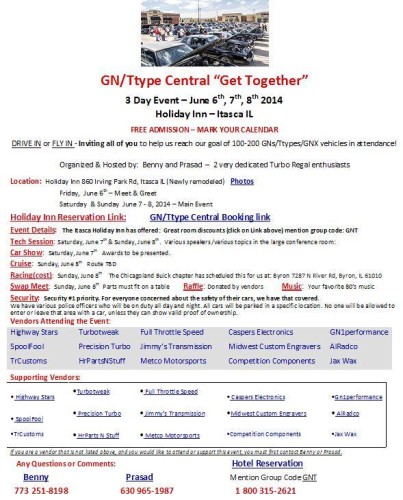 (click to read larger version)
.