A similar likeness to the 1:24 scale Jada Metals BigTime Muscle Buick Grand National, this 1:32 scale version of the G-body Regal again features a two-tone paint job, with both top and bottom being shades of silver (or gray). Part number 24073, available for about $20-25 currently (ebay, shipped).
These Turbo Regals they are producing once more reminds me of the same thing Jada did with the "dub city old skool" vehicles quite a few years back, so don't be surprised if you start seeing a whole bunch of different colored (ahem) "Buick Grand Nationals" that are introduced into this series sometime in the near future…
(not that I'm complaining though, releasing them into the collector world keeps the interest going for our BTR cars, even if it is in a smaller scale size than we are use to)
.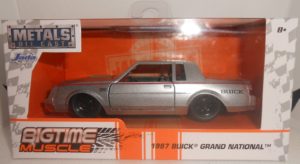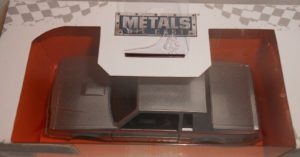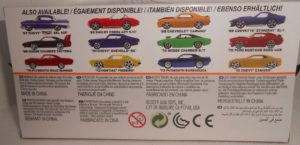 .
Here's some related Buick items if you happen to be shopping for Buick merchandise! (if you can't see them, turn off your ad blocker!)
.