On Friday and Saturday, August 26-27, 2023, the yearly Marysville Hot Wheels Weekend occurred.
Friday night is composed of cruising down Gratiot Blvd.
Saturday is the festival in the park.
[Marysville, MI, is South of Port Huron]
This waterfront event has live rockabilly and surf music, a pin up contest, drive in movie, and, of course, a car show!
Even Tom Wopat from The Dukes of Hazzard made an appearance here with the General Lee!
There were actually 3 1969 Dodge Chargers at this celebration!
1 was there for pictures with Tom standing beside it (with spectators).
1 was for people to sit inside and get there photos taken within.
The last one was from the 2005 movie, which was an actual movie used car, complete with major dings and dents on it!
A KITT replica was also on display.
No Turbo Buicks (but 1 regular Buick Regal) on the grounds, and a few GM Gbody vehicles were present.
We had a good time taking in all the festivities at this lovely park setting.
It's always neat to see the train they have here, as well as the trolley cars running down the street shuffling guests between the park and the designated parking area 1/2 mile away.
.
If you haven't heard, the Hines Drive Cruise has been cancelled due to flooding.
(meaning we'll have to find some other automotive event to attend in its place!)
(so you should check back here on Monday to find out where we went!)
.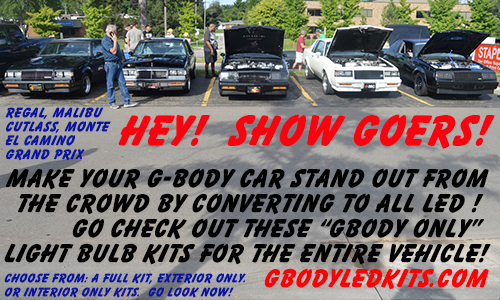 .
THE DUKES CAR AND TOM WOPAT:
.
.
.
THE REST OF THE VEHICLES THAT WERE ON DISPLAY:
.
.