This Gold Wheels 1987 Buick GNX diecast car shown today is the chase car from the Muscle Machines Set made by Maisto.
The only distinguishing feature that's different from the first made Black Black GNX Muscle Machines car (from 2021) is the gold rims and tire lettering.
As for the packaging on this new one, we did notice 2 different types (variations) for this specific "chase" collectible!
Which is mostly curious in and of itself (it's possible Maisto just messed up on some of them, or perhaps there will be some other explanation in the near future, which we'll update this post if that's the case), but apparently no one has noticed this yet (except us! – so now watch the price go up for the first version we mention below!! -that's usually how it goes). Maybe it's just an error, but who knows (for now).
One version has a hologram decal attached, with the letters "MM" and says limited edition, located on the upper right corner of the front of the card.
The other version (which is what most sellers are peddling), does NOT have this sticker on it!
[the rest of the card and packaging seems identical]
The current price for either variation is about the same.
[but we'd definitely choose the 1 WITH the decal though if we were going to purchase this!]
The back of the packaging says it's from Series 4, and is car #24 (just like the Muscle Machines white GNX from 2022), a good indicator of the chase status (even though it's now a year later).
This new offering for 2023, 1:64 scale diecast car can be obtained for around $18-24 (on ebay) right now.
[for singles, a few sellers are offering package deals for multiple cars]
[and, overall, this seems pretty cheap for a "chase version" compared to what other diecast car brands bring for their limited edition chase cars]
[You're welcome for all these little tidbits herein!]
If your a fanatic of these Turbo Buicks, and a diecast car collector, it's probably a worthy addition to your collection.
.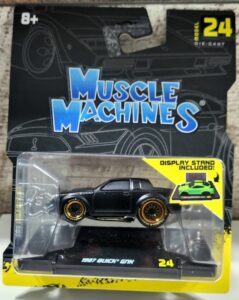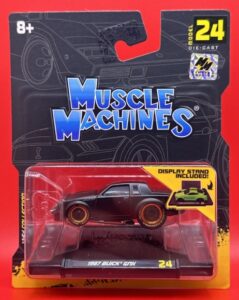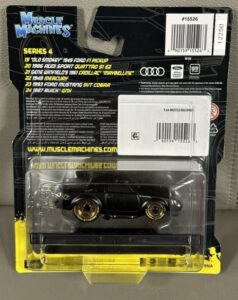 .
Here's some related Buick items if you happen to be shopping for Buick merchandise! (if you can't see them, turn off your ad blocker!)
.