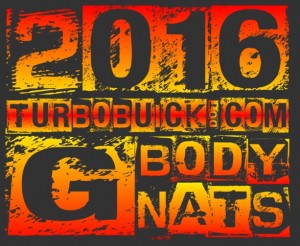 WHEN: May 4-7, 2016
WHERE: Burlington North Carolina.
The racing happens at Piedmont Dragway.
The show is at Richard Clark's shop (2557 Faucette Lane).
DETAILS:
A way cool 4-day event! Racing, car meet at RC's place not to mention the knowledgable learning experience you will acquire!
Racing includes TSO, TSM, TAI, as well as a few other index & bracket classes.
Dennis Kirban is the MC for the free luncheon on Thursday.
Full info here:
http://www.turbobuick.com/threads/2016-turbobuick-com-nationals-is-on-may-4th-7th.430912/
If you are on Facebook, you can see info here:
https://www.facebook.com/events/988925697847114/