Tired of bumping and scraping your hands and arms on the bolt threads in the engine bay?
There's an easy, cheap, and good looking solution for this!
When you start adding extra items (or replacing the OEM stuff with aftermarket clamps, etc.) under the hood of your Turbo Regal, there can be a lot of exposed bolt ends that could cause issues to your hands when you're reaching down in the engine compartment to do whatever task you're currently working on.
Assorted clamps for the (up or intake) pipes, radiator hoses, and any other parts that need a bolt to secure them down are a potential hazard to scrape up against your fingers, hands or arms while you're doing projects on your G-bodies.
Sure, you try to protect your hands from this happening, but, you know, stuff happens.
You're in a hurry, or not totally paying attention, or reach down and just don't see these exposed dangers just waiting to injure you.
Some people use "mechanic gloves" when working on their Turbo Regals, but most don't.
.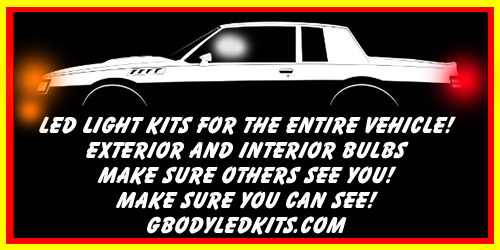 .
There's also the possibility of crushing the bolt threads unintentionally while doing things. End caps will save them so you don't stuggle removing the nuts or the bolts themselves (thus having to replace them) in the future if damaged when you're tinkering on your Regals.
There's an inexpensive and simple solution to preventing all these issues.
And it's a neat looking item to dressup the under hood area to boot.
"Screw Thread Protectors" – "Bolt Thread Protectors" – "Vinyl Rubber End Caps."
They are called a few different names, but all mean basically the same thing.
You slip this item over the end of the bolt, and not only does it prevent damage to the bolt threads, but also protects your arms and hands from getting hurt if you happen to run them up against the exposed bolt ends.
A plain but useful product that doesn't cost much (unlike some of the Turbo Buick parts)!
The majority of bolts in the engine compartment (at least for the clamps) are 3/16″ or 1/4″ in diameter.
The header panel studs are in that same size range.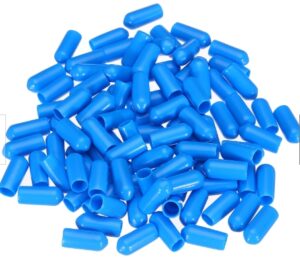 For our Buick Grand National, we chose these blue colored versions, since it matches the other components we have in the engine bay.
These end caps are available in black, blue, red, green, as well as a few other colors.
[you should probably choose the black ones if you just want them to blend into your engine compartment discreetly]
[but if you want to add a little zing, the colored versions succeed for that!]
We bought 100 blue vinyl rubber end caps (less than $7 shipped, ebay), for each of the 2 sizes required.
The nose / front header bolts need a 3/16″ (.1875) size, and the assorted hose clamps (mostly) need 1/4″ (.25), but they all come in metric sizes. So you need to do some math and convert.
4mm = .16
5mm = .20
6mm = .236
7mm = .275
We felt some of the larger versions (for each size we needed) might be too loose, even though the 1 size smaller style is technically too small (per measurement), however, these parts are made from vinyl, so they can probably stretch out a bit to fit snugly over the threads (which they do).
We bought the 4mm for the 5 bolts that go on the front end studs.
Also, the 6mm style for all of the hose clamps.
[we have an aftermarket cold air intake, with a MAF connected, so several t-bolt clamps were used to secure it all together]
[we also installed aftermarket style radiator hoses, so a bunch of the same type t-bolt clamps hold these items in place]
[note, there was one (6mm) bolt that probably would have been better off with a 5mm version, as the 6mm was a tiny bit loose, and then we noticed some other bolts within the engine bay that could probably use a 7mm type, so we suggest if you're buying these end caps, get the 4 5 6 and 7mm sizes since they don't cost a lot. and then you'll have a lifetime supply of these… for all of your vehicles!]
[just to mention, there's a lot of exposed bolt ends in the Buick Regal, under the car, inside the interior, trunk, etc., and if you take a look around, you can use these bolt thread protectors throughout the entire car, especially with having 100 of each! Pretty beneficial to protecting you from injury when you work on your TR in the future!]
Some of these odd type items (when shopping on ebay) aren't readily available in the USA (go figure), but can be acquired (direct from China).
The estimated arrival time was about 2 weeks, and actually came in our mailbox in 10 days. Not too bad.
It's not really a product we needed ASAP, so no rush to get them here.
(we generally plan things way in advance when possible, and the merchandise is usually cheaper that way, as opposed to "need it now" products that you have to pick up at local auto parts stores, for top dollar)
Installation time takes less than 10 minutes to put a bunch of them on wherever needed.
.
These rubber caps have plenty of other uses as well, like unused vacuum block tubes, and more if you use your imagination!
.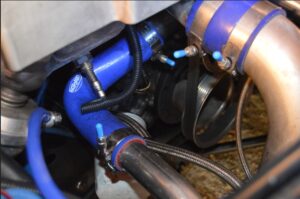 .