This category on the website [ Sensors and Wiring ] we are giving you all of the information related to the individual sensors in the Buick Turbo Regal, along with the associated wiring, connector plugs, etc.
.
VEHICLE APPLICATION:
Buick Regal, T-Type, Turbo T, Limited, Grand National, GNX
SENSOR NAME:
Mass Air Flow Sensor
PURPOSE OF SENSOR:
reads air flow into engine, sends info to ECM
TURNS ON-OFF / FUNCTIONS / USED WHEN:
in constant use while engine is running
LOCATION IN VEHICLE:
in the up pipe air stream
ORIGINAL GM PART NUMBER:
25007653
SENSOR / BASE COLOR:
black
CONNECTOR PLUG COLOR (SENSOR SIDE):
black
WIRES ATTACHED (SENSOR SIDE):
n/a
CONNECTOR PLUG COLOR (HARNESS SIDE):
black
NUMBER OF WIRES ATTACHED (HARNESS SIDE):
3
COLOR & PURPOSE OF (HARNESS SIDE) WIRES:
pink-black ("A"), goes to ECM/IGN fuse (via junction, connected to other things)
gray-red ("B"), goes to ECM ("B6" mass air flow sensor input)
black-white ("C"), goes to (junction) to ground
(junction connects with other things)
.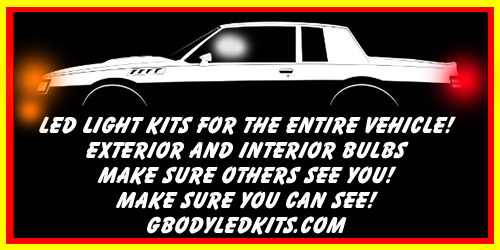 .
THINGS TO KNOW ABOUT THIS ITEM:
Reman units are notorious for being bad, even right out of the (new) box.
For performance applications, as well as to get a stable MAF unit since OEM reman versions are very unreliable, many turbo regals have been switched over to LS or Corvette style (3″ or 3.5″) MAF sensors. Most Buick vendors sell these aftermarket / conversion type sensors. And these non-factory units DO require a MAF translator box to use.
OTHER NOTES:
The newer stand-alone style ECU/ECM units totally eliminate the stock maf sensors by utilizing a speed density type of system within them.
.
you can see here: 1984/1985 sensor locations
.
PHOTOS OF SENSOR AND CONNECTED WIRES:
.
.
Here's a list of all of the sensors in the Buick Regal:
(you can click the links to go to the one you need info about, after they're published)
* Air Temperature Intake Sensor (IAT; MAT; ATS)
* Camshaft Sensor (CAM)
* Coolant Temperature Sensor (CTS)
* Crank Sensor
* Knock Sensor
* Mass Air Flow Sensor (MAF)
* Manifold Air Pressure Sensor (MAP)
* Oxygen Sensor (O2, narrowband)
* Throttle Position Sensor (TPS)
* Turbo Boost Gage Sensor
* Twilight Sentinel Photo Cell Sensor
* Vehicle Speed Sensor
* Wideband Oxygen Sensor (WBO2)
.