This is a very interesting piece. And talk about rare? How does 1 of 1 strike you? It was for sale a few years ago.
The signed COA (pseudo Certificate of Authenticity included with sale) stated the following about this truly rare model:
The mockup that you have in your possession is an authentic Johnny Lightning mockup that was going to be used for the development of casting #928 1987 Buick Grand National.
Due to the fact that RC2 did not want to spend any more tooling dollars they ended up using there own Racing Champions Grand National casting they already had established in there tooling bank.
This Grand National mockup was used for reference to alter the Racing Champions Grand National to Johnny Lightning specs.
Since all mockups get destroyed during tooling stage, this one has been spared.
This is the only hand built Johnny Lightning Grand National mockup in the world.
This is an awesome piece that will be treasured for years to come.
Please take care of it and enjoy.
Best Regards,
Tony Karamitson (LT1 Tony)
EX- Johnny Lightning Product Manager
.
.
The #928 casting mentioned (which is a 1:64 scale diecast car) was used for quite a few different buick regal versions, with slight variations between them depending on the theme of the release.
(you can see all of the different cars made here: http://www.jlcollector.net/928.html)
Here's just 1 example of the 928 casting: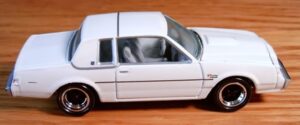 .
Here's some related Buick items if you happen to be shopping for Buick merchandise! (if you can't see them, turn off your ad blocker!)
.